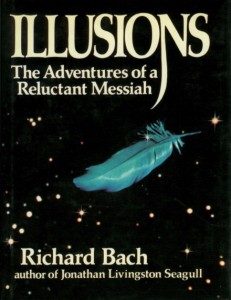 The internet is a fascinating place. It can be both scary and amazing at the same time. Scary because it can be an echo chamber where one's views, no matter how extreme and radical, can be validated and amplified. But it's also amazing because put to the right uses, it is a fountain of knowledge. I prefer to take the latter approach to the internet rather than the former.
Here is a case in point. Last year, I chose to search out inspirational readings and motivational stories on the web. As part of my search, I landed on a blog started by Chiao Kee Lim called the The Dirty 30's Club. While the blog has gone a bit stale (no new posts since May 2013), there are many great readings and stories there.
In one of the readings, The Creatures at the Bottom of the River, the book Illusions: The Adventures of a Reluctant Messiah by Richard Bach was mentioned. I found the reading very interesting and thought it might be worthwhile to investigate the book. When I saw the overwhelmingly positive reviews the book received on Amazon, I decided to let it jump the queue in my 2016 reading list. By the way, if the name Richard Bach sounds familiar, his more famous book is Jonathan Livingston Seagull.