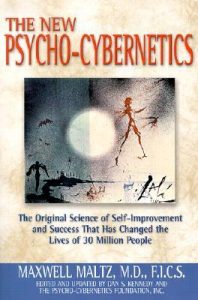 It's rare to find books that stand the test of time, especially as it applies to personal development, self-help and psychological theory. So many of these books are written based on the trend of the day in an attempt to ride the wave to making a quick buck. Even rarer is finding a personal development book that you know you will come back to on a regular basis.  As the saying goes, these are even fewer and farther between.
Fortunately, I discovered a book that fits these qualities – The New Psycho-Cybernetics by Dr. Maxwell Maltz.
I'm not exactly sure how I happened across Maltz's work, but I'm glad I did. "Game-changer" can be such an overused and over-hyped word, but it applies in this case. In other words, reading The New Psycho-Cybernetics has had a profound outlook on my approach to life. It is what I would call a foundation book in the realm of personal development. It revealss the science behind how we can employ basic techniques to control our brain and inner voices to get the most out of life. Since reading it, I've noticed that many of the concepts discussed are referenced and built upon in other popular personal development books. For these reasons alone, it is a book that I plan to refer back to on a regular basis.