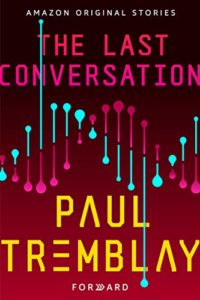 In somewhat of a coincidence, the last story left for me to read in Amazon's Forward Series was The Last Conversation by Paul Tremblay. I didn't plan it that way. It just kind of happened.
Reading a short story is different than reading a long form novel. The author has a limited amount of pages to develop characters and explore a topic. It means there are usually fewer characters, the pace of the plot tends to be faster, and the author leaves it up to you the reader to fill in more of the details. In a well written short story, the ending is typically a stunning plot twist or reveal – the more unexpected the twist, the better. It's not unusual for the ending to be abrupt, lacking closure. One gets to use their imagination to create their own ending, or to debate possible endings with others who have read the book.
Some are put off by this format, but I like it, a lot.
Continue reading