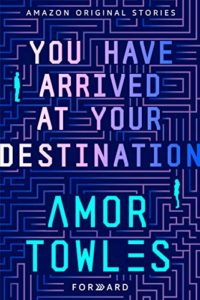 Between books in my reading list, I've been working through the collection of short stories in Amazon's Forward Collection. I've already read Summer Frost, Randomize, and Emergency Skin. I just completed You Have Arrived at Your Destination by Amor Towles.
You Have Arrived at Your Destination is about the implications of genetic engineering. When Sam and his wife Annie decide on in vitro fertilization to start their family, they approach an advanced genetic engineering company. The company claims they can alter the child's lifetime outcomes through genetic selection. The kicker is that the couple gets to pick the outcome they want. How do they make their choice? The company shows them a short film that simulates each predicted outcome.
Sam's reaction to the three outcomes Annie has chosen for him to review is the basis for the plot. It's an entertaining, well-written story, but it fell a bit flat for me. The science fiction part was shallow and not well developed. Towles just briefly touches on the genetic engineering technology and focuses mostly on the characters. I also didn't understand the ending. It's entirely possible I may have missed something, but I just didn't get it.
So after four stories, here's my current ranking of the works in the Forward Collection
Summer Frost by Blake Crouch
Emergency Skin by N. K. Jemisin
Randomize by Andy Weir
You Have Arrived at Your Destination by Amor Towles
While You Have Arrived At Your Destination was not one of my favroites, I am still enjoying the Forward Collection. I have two stories left to read, Ark and The Last Conversation. I'm looking forward to both.