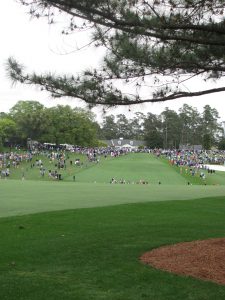 Back in 2012, my dad asked me to apply for tickets to The Masters. He had been applying for a few years and wasn't having any luck getting tickets through their annual lottery. He figured that having me, my sister, my uncle, and a few others apply would increase his chances of getting to go back to the event, as he was lucky enough to have gone once before.
Every year since then I would apply, and I would get the same response around mid-June:
We have completed the random selection process for Daily Tournament tickets and regret to inform you that your application was not selected for tickets.
I'm certain that many of you are familiar with that message.
This year, I was shocked when I opened the email with the standard 2018 Masters Tickets subject line and read the following:
Congratulations. The Masters Tournament is pleased to announce that our random selection process for 2018 Practice Rounds tickets has been completed and your application for tickets has been selected.
My immediate reaction was what do I do now? To which my Dad replied, BUY THE TICKETS!!!
Needless to say, the tickets were purchased, and the planning began. It was a long wait from the time I received the email on June 20, 2017 to attending the practice round on April 4, 2018.
If Jim Nantz calls the tournament "A tradition like no other," then attending The Masters is an experience like no other. It is difficult to convey how impressive everything in and around the event is in words and pictures, but I'm going to give it a try in the rest of this post.