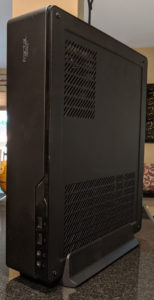 I like building my own computers. Why do I do it?
I enjoy customizing my computer, setting the specs, and selecting the parts. More importantly, I like understanding what's going on under the hood. If something goes wrong with the machine, there's a better chance that I'll be able to fix it.
I built my first PC in 2005. It worked well and lasted over 8 years. In fact, had it not been for Microsoft ending support for Windows XP, I probably would have kept the machine a few years longer. You can see the parts list for that first machine along with that of its replacement by clicking here.
I've built several computers since then, both for myself and family members. I doubt that I will ever go back to buying an off-the-shelf desktop PC again.
My latest build is a compact PC in a mini-ITX form factor, which is what I've used for my last few builds. Unlike in the past, you don't have to compromise on performance when building a machine with a small footprint. To see just how far things have come, here's a rundown of the new machine and a comparison to the one it replaced.
Continue reading