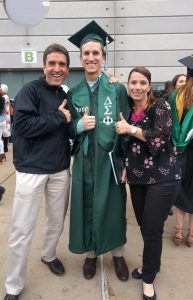 Ferris Bueller was right when he said, "Life moves pretty fast. You don't stop and look around once in a while, you could miss it."
It seems like it was just a couple of weeks ago that we moved Brad into his freshman dormitory at Eastern Michigan University. Well, whether I want to believe it or not, it was four years ago! Yup, four. years. ago. Where did the time go?
We recently got back from Brad's graduation. Based on the picture at the right, I'm not sure who was happier. I know Brad had to be excited, but we as parents were also happy to have our second one through college. Having the financial burden and responsibility of a second child finishing school is a clear cause for celebration. It's also a time for reflection, which I did plenty of during the weekend.