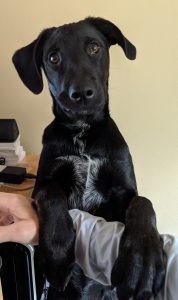 If I had a category for it, I'd file this post under 'What was I thinking.' We did it. Last November, we brought home a puppy.
It's possible both Lisa and I may not have been thinking straight. We had just driven back from Las Vegas that evening and were feeling pretty out of it. I could also pin this on Abbey. She's been persistent about wanting us to get another dog. When she gets to the point of really wanting something, she's relentless and wears you down. So maybe that was it.
No matter the case, nearly a year after the loss of Blake, our one and only, the original family dog, we've added another one to the mix. Maverick has become a permanent addition in our house.