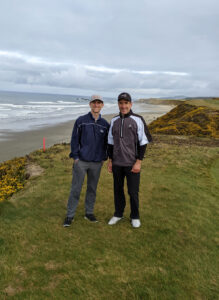 A few years ago, a good friend asked if I had golfed at Bandon Dunes. I told him that I had heard of the place but didn't know much about it. He attempted to explain his experience. While he struggled to find the right words, he used a lot of superlatives. Exasperated, he finally gave up trying to describe it and said, " You have to go. You just have to go."
Having just returned from Bandon Dunes, I can finally understand and appreciate his fascination with the resort. Words cannot adequately describe the experience, nor will I do it justice in this post. However, I'm going to give it my best shot and will tell you in advance – if you are a golfer and have a true passion, love, and appreciation for the game, it's a place you have to go.
Wait, let me rephrase that – Bandon Dunes is a place you MUST go.
A Good Walk NOT Spoiled
Golf has often been described as "a good walk spoiled," which many attribute to Mark Twain. Regardless of where the quote originated, I'm here to tell you that whoever penned that saying has never golfed at Bandon Dunes.
Bandon Dunes has five championship caliber 18-hole golf courses on the property. Each one is unique and challenging in its own right, and they all have incredible vistas of the Southwestern Oregon coastline and surrounding hills. Each course does a great job incorporating and making use of the coastline and natural land features in their layouts. There are no houses or housing developments bordering the holes. The courses are walking only, so you won't see any electric golf carts, tire tracks in the fairway, or cart paths lining the course. Surrounded by such immense natural beauty, it's easy to forget that you are actually supposed to be golfing. It feels more like a nature hike where you occasionally swing an angled club and chase a small white ball into a round hole four-and-one-quarter inches in diameter.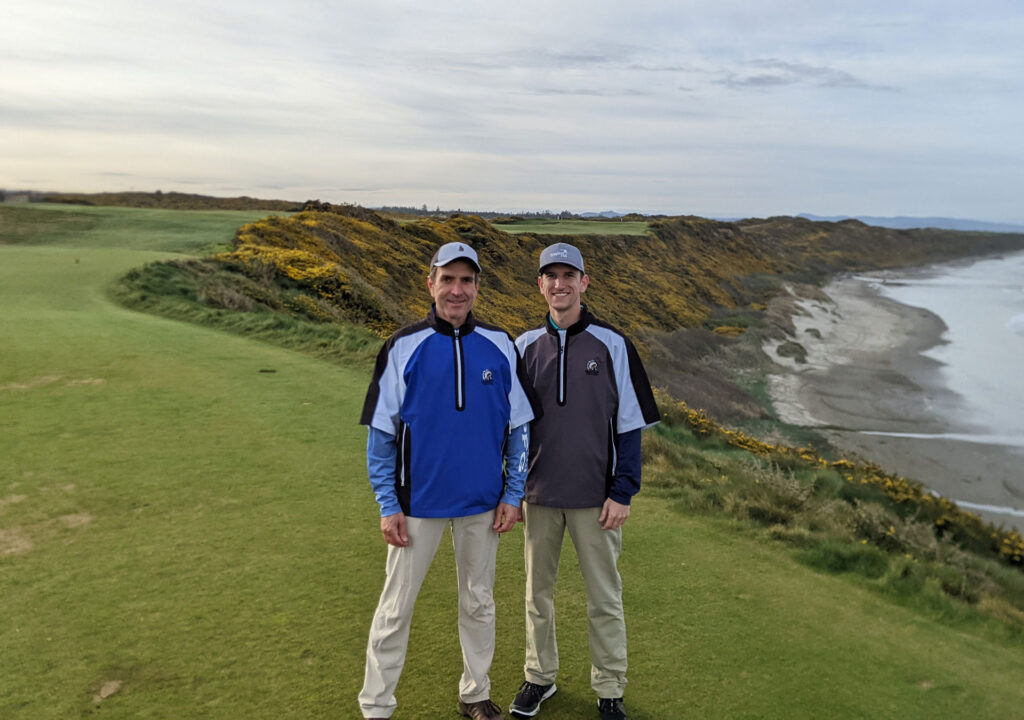 In addition to the 18-hole courses, there are two Par 3's on the property. Bandon Preserve is a challenging 13-hole tract cut into the hillside and natural areas overlooking the Pacific Ocean. Shorty's, on the other hand, is a 9-hole course adjacent to the practice facility that is a traditional par 3 course – straight holes, wide fairways, and moderately sized greens. It's a great place to work on the short game or enjoy a round with less experienced players.
All About Golf
Bandon Dunes is not a destination resort, it is a golf resort. The distinction is that a destination resort has something to do for everyone, even those who don't golf. For example, you don't have to be a golfer to enjoy the Monterey Peninsula. At Bandon Dunes, plan on golfing. All. The. Time. Outside of hiking, there isn't much else to do.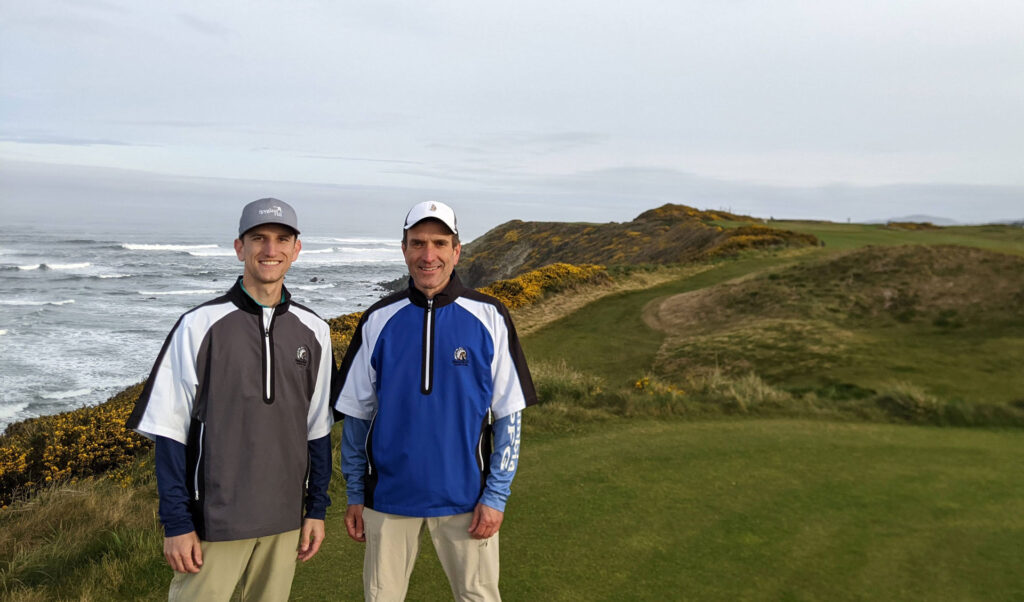 We were there for four days and played 18 holes each day, including 36 on our first day. On the other 3 days, after we finished our rounds, we either played one of the par 3's, spent time at the practice facility tuning our swing and working on our game, or played 36 holes at The Punchbowl. What is the Punchbowl? Well, I'm glad you asked.
The Punchbowl is a putting green containing two 18 hole layouts. This isn't your typical putting green. The holes are cut on top of hills and ridges protected by mounds and severe slopes. Fortunately, to make the experience more enjoyable, they serve cocktails out of a trailer adjacent to the putting green. In other words, it's not an area to take yourself or your putting game too seriously. It's where you gather with the group after a round or before dinner, have a drink or two, and let the games begin. The only things missing at the Punchbowl are rubber mallet putters, colored golf balls, and a giant windmill.
The Courses
I'm going to take a shot at ranking the five 18-hole courses, purely based on my opinion. Before I do, I want to be clear that ALL the courses are great. There's a simple reason why all five appear in the top 20 of the top 100 public golf courses in America (as rated by Golf Digest). They are all that good.
My personal favorite of the bunch was Pacific Dunes. It does a great job using the form of the land and natural beauty of the coast to create a fair, fun, and challenging layout. There are so many great holes, but my favorites were numbers 4 and 13 that are cut right along the coastline.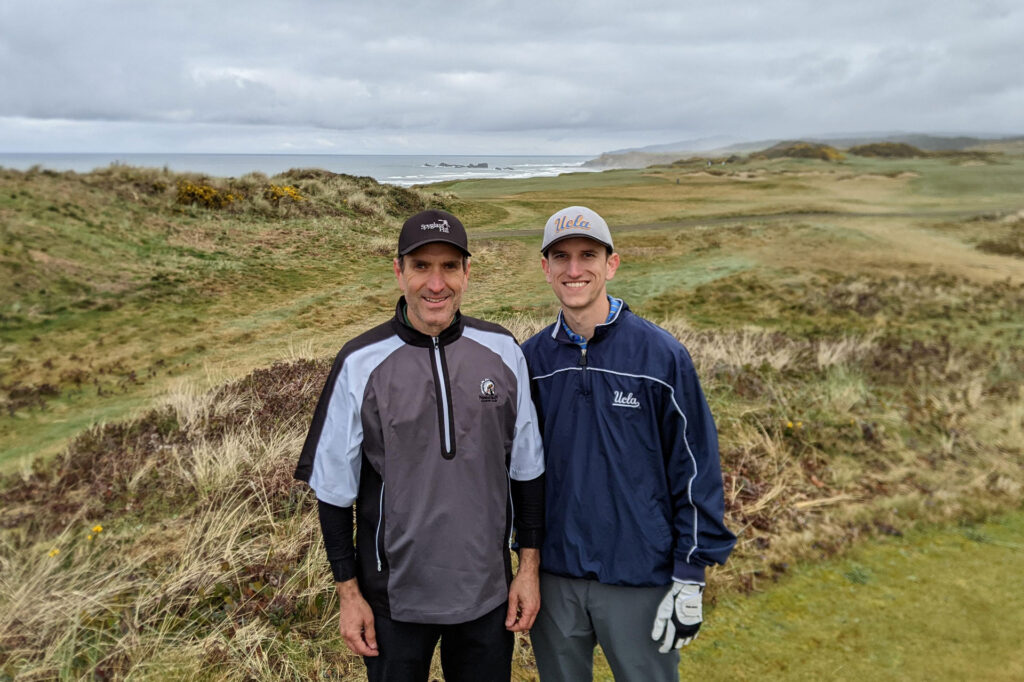 I could have easily put Bandon Dunes in the top spot as it is very similar in style to Pacific Dunes. Both Bandon and Pacific Dunes are true classics, every bit as good as the iconic courses along the Monterey Peninsula. There are so many signature style holes at Bandon, although I really enjoyed the finish from 14 on in.
Of all the courses, Bandon Trails is the least links style of the group. It is almost a clone of Spyglass Hill. The course starts out along the coast, ventures inland through the hills and pines, and then returns toward the coast for the finish. Number 9 was my favorite hole on the course. The way the fairway and green is framed among the pine trees off the tee is breathtaking.
Old MacDonald, aka "Old Mac," is the most challenging course, in my opinion. It requires course knowledge, which is where your caddie will earn his keep. Ball position off the tee is very important based on where the pins are. Why? It's because the greens are huge, and even that superlative may be an understatement. It's critical that you give yourself good angles so an approach miss doesn't leave a putt that can venture well into the triple digits in length.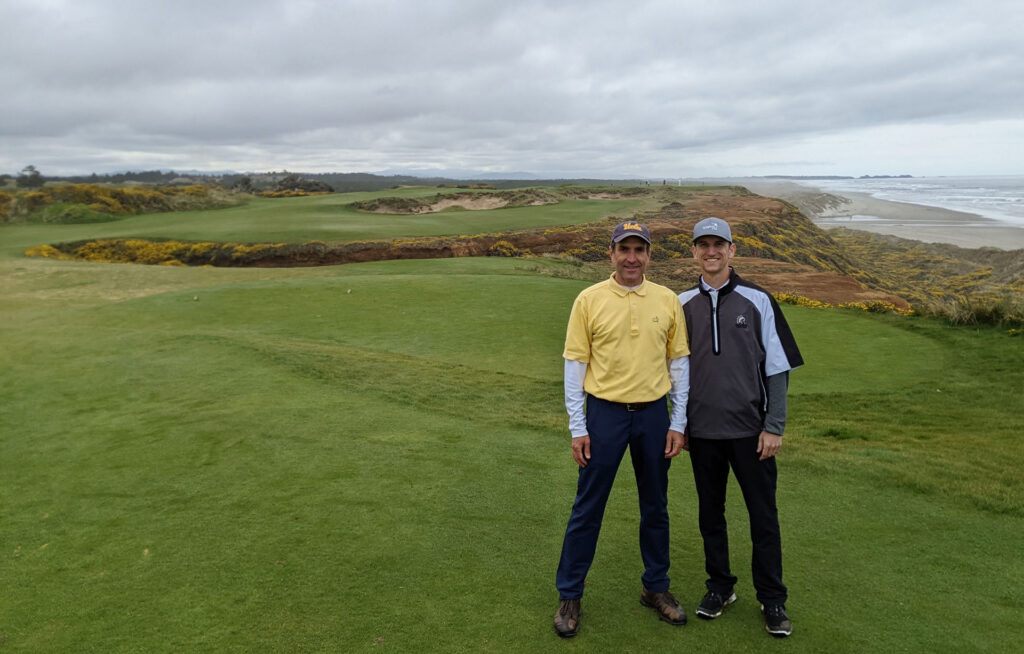 Last, but certainly not least, is Sheep Ranch. Sheep Ranch is the most forgiving of the five layouts while still offering a good variety of hole layouts and unique challenges. Where Sheep Ranch really shines is the vistas of the coastline and ocean. Nine of the 18 holes have some interaction with coastline, and there are great views on every hole. It was especially beautiful while we there at the end of March since the gorse, which is plentiful on the course, was in full bloom. As beautiful as it is, you don't want to be in the gorse, or anywhere close to it for that matter. There's a reason it's used for sheep pens. It is one prickly plant!
The Resort
As noted above, Bandon Dunes is a true golf resort catering exclusively to golfers. If you don't truly enjoy the game, you're going to be in for a long trip.
That said, the amenities at the resort are top notch. Our room at the Chrome Lake cabins was well appointed with nice touches specifically for golfers such as shoe dryers/warmers. Our experience at each of the restaurants was exceptional. We didn't have a bad meal during our trip. The portions are adequate and the drinks are reasonably priced.
Everything you need is on the property. We arrived Thursday afternoon, checked in, parked the car, and didn't move the car until we left Monday afternoon. Shuttles are readily available to take you anywhere you want to go on the property. We never waited more than 10 minutes for a ride, with most shuttles arriving within a couple of minutes of being called.
I must also mention that all the resort staff we interacted with were friendly and personable, which only enhanced our experience. We especially enjoyed talking with Shoe outside guest services at the Main Lodge and with one of the shuttle drivers, Maria. For a while, I would have sworn that she was following us around given how many times she gave us a ride.
And again, saving the best for last, our golf experience would not have been the same without our caddie, Eddie. He did a yeoman's job double bagging our clubs for all five rounds. His course knowledge was indispensable, which was the main reason I played some of my best golf on the trip which included an even par back nine at Bandon Dunes. Besides the course knowledge, his knowledge of the game was incredible. He gave Brad and me so many great golf tips that it felt like we were getting private lessons. He was also incredibly friendly. Within the first few holes on our first day, we were both extremely comfortable with him. It was like hanging out with a long last friend for four days. He told us stories that we will remember forever. My only regret is that we forgot to take a picture with him before we finished our last round.
If you're planning a trip to Bandon Dunes, hiring a caddie is a must, especially since all the courses are walking only. It will level up your overall experience. In addition to Eddie, we got to meet the caddies who worked with the other members of our foursome. Every one of them was top notch – professional, friendly, and personable.
A Trip for the Ages
For golfers, Bandon Dunes is a bucket list trip, and one that needs to be experienced with others. It's ideal for a group trip to celebrate special events, such as a 40th, 50th, or 60th birthday party weekend, or for a bachelor (or bachelorette) party weekend. It truly defines what golf is meant to be. A game where you can have some fun, challenge yourself, and enjoy genuine camaraderie with your friends.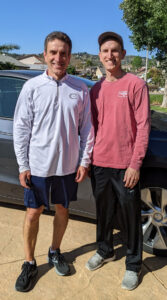 For me, I was lucky enough to take the trip with my best friend, who also happens to be my son. There are so many things I'll always remember about this trip, both on and off the course. The memories I'll cherish most are those times when Brad and I both split the fairway and walked side-by-side down the center of the fairway with Eddie, talking, laughing, and sharing stories. Most of all, I'll remember those moments when Brad and I both proceeded to land our approach shots on the green, followed by Eddie reaching into the bag and handing us our putters so we could enjoy the "putter walk" to the green, during which we continued to talk, laugh, share even more stories, all while surrounded by nature's immense and awesome majesty.
Bandon Dunes. Golf as it is meant to be. Where the game lives on. Where it truly is a good walk, not spoiled.
---
Brad and I booked this trip through the SCGA Member Outing program. Brenda Kemball and her staff did an outstanding job arranging the golf, accommodations, and meals for the entire trip. If you are a member of the SCGA, I would strongly recommend taking advantage of this benefit. This is the second trip I've booked through the program, and both have been outstanding experiences.