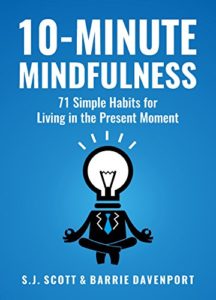 One of my goals for this year is to be more present, to live in the moment. It's a recurring theme in my meditation practices, and, as I recently wrote about, one I consistently struggle with. I have a tendency to get wrapped up in my thoughts, whether it's about the past, the future, or my latest work project. These distractions can keep me from being fully present and engaged in the now.
So what do when I'm struggling with something? I research and read about it.
Therefore, I decided to read 10-Minute Mindfulness: 71 Simple Habits for Living in the Present Moment by S.J. Scott and Barrie Davenport. I figured that I would find at least a few of their recommendations useful on my journey to living more mindfully.
Continue reading