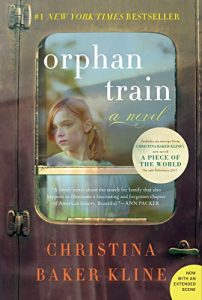 I don't read much historical fiction. When a friend highly recommended the book Orphan Train by Christina Baker Kline, I'll confess that I was a little hesitant to add it to my reading list. Since my friend was so enthusiastic about the book, I figured it was worth giving it a shot. It took me a couple of years to finally getting around to reading it, and I'm very glad that I did.
Orphan Train is based on Kline's historical research into trains that carried orphans from major East Coast cities into the Midwestern states during later 1800's and early 1900's. According to Kline's portrayal in the book, many of the orphans did not want to leave, were transported against their will, and were apprehensive and afraid about what would happen to them. At first, I found it hard to believe that such a thing would and could exist, but it's true. If you do a Google search on the topic, you'll find many websites dedicated to preserving their history, as well as an informative overview article that you can read on Wikipedia by clicking here.
One of the main characters in Kline's story is a present day teenager who is in the foster care system. She has bounced around among multiple foster homes and is struggling to get along with her current foster parents. To stay out of trouble, her boyfriend finds her a job helping an older woman tidy-up and organize her attic. The older woman was a part of an orphan train, and the book interleaves the older woman's experiences from her youth with her teenage helper's current struggles.
In her interactions with the teen, the older woman recounts her experiences of being a refugee and orphan during the early 1900's, which are often quite traumatic. Kline relates these struggles to those of the modern day foster child. While there are many similarities given how difficult it can be to be in the foster system, especially for a young adult, it still does not compare to the difficulties the orphans faced in the Midwest during the early-mid 1900's. The orphans who were transported to the Midwest were given away to families who put them to work where they were often abused and subjected to inhumane conditions. No matter what you're current situation may be, reading the book will make you thankful and appreciative of the conveniences we have available to us in this modern day and age.
Even though historical fiction isn't my thing, Orphan Train is going into my Must Read list of books. It's a great story that will captivate and draw you in. Kline does an excellent job painting vivid images of the trails and tribulations the orphans faced and does a great job developing the characters and making them relatable. I also found the historical aspect very interesting. I was not aware that orphan trains ever existed since that does not appear in any of our modern history books and is not talked about openly. I'm impressed in the work Kline put into her research and that she was able to translate it into such a great, moving story that shed some light on this controversial and somewhat darker side of American history.