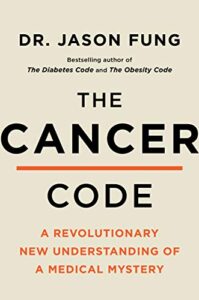 Over the past few years, I've taken it upon myself to learn more about health, nutrition, and fitness. I'm not implying that I don't trust my doctor, or the medical profession in general. However, if the information is out there, why shouldn't I read it? There's nothing wrong with a little knowledge, especially when it comes to our own body and health. It also leads to more productive conversations with my doctor during my annual check-up.
As part of my personal health education process, I recently read The Cancer Code: A Revolutionary New Understanding of a Medical Mystery by Dr. Jason Fung. Cancer has been one of the most lethal diseases of my lifetime, and I wanted to understand more about it, how it's treated, and possibly how to prevent or delay its onset.
When I wanted to learn more about fasting, I read Dr. Fung's The Complete Guide to Fasting which was very informative and a book I would highly recommend. Based on that experience, I had high expectations for The Cancer Code.
Continue reading