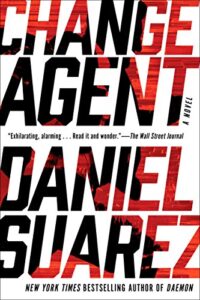 I read a lot of near-term, hard science fiction. Hard doesn't mean difficult. Hard means that it's a realistic view of how technology could evolve in the near future, which is any time within the next 50 years.
A consistent theme in these books revolves around artificial intelligence. Specifically, it's the threat posed by a runaway, super-intelligent AI that would threaten humanity's existence. While the stories are fiction, the threat is real. Numerous technologists have warned about it, including Stephen Hawking and Elon Musk.
Another technological threat that doesn't get as much attention is genetic editing. The technology is more commonly referred to as CRISPR. In simple terms, CRISPR gene editing involves changing the genetic structure of a living organism, humans included. While there are numerous positive uses for genetic editing such as vaccine development, the technology can also be used for nefarious purposes.
In his book Change Agent, author Daniel Suarez explores a near-future where gene editing technologies such as CRISPR are readily available. It raises a myriad of ethical questions. Should people be able to select and determine the personalities and capabilities of their children? What happens when the genetic structure of a person is changed, especially if it happens without their permission or knowledge?
Continue reading