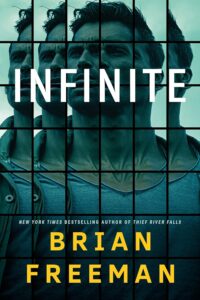 If you're an Amazon Prime member, I'd strongly recommend signing up for their First Reads program. Every month you have the opportunity to get early access to an editor's pick. What's the catch? Well, for starters, it's free. On top of that, sometimes you get to pick not just one but two books. It's one of the rare occasions when something that sounds too good to be true really is good.
I've read some interesting books and discovered a couple of new authors through the service. Examples include Interference by Brad Parks, The Naturalist by Andrew Mayne, and Bandwidth by Eliot Peper. My latest discovery was Infinite by Brian Freeman.
When I read the description for Infinite, it sounded very similar to Dark Matter by one of my favorite authors, Blake Crouch. Having never read a book by Freeman before, his work lived up to the billing and did not disappoint.
Infinite is a techno-thriller built around the quantum physics theory of many worlds, many minds. As the book's central character, Dylan Moran's world is turned upside down when the car he is driving plunges into a raging river, and he is unable to save his drowning wife. After noticing a look-alike trailing him around town, Moran begins to question his perception of reality, especially when it turns out his look-alike is a version of himself from a different space and time. That's all I'm going to say about the plot. Saying more would give too much away.
Overall, I really enjoyed Freeman's writing. It's immersive and engaging. He does a great job describing the scenes in and around the city of Chicago, which made me feel like I was there even though I have only a passing knowledge of the city. If you live there or have intimate knowledge of the city, you'll feel even more engaged. Freeman also moves the story along quickly. It's a page turner that's hard to put down with unexpected and well orchestrated plot twists.
Infinite is a must read that I'd put right up there with Crouch's Dark Matter. If you haven't read either of these books, I'd highly recommend adding both to your reading list. Yes, they're both build around a similar premise, but the stories take significantly different approaches. Both will stimulate your imagination while keeping you highly engaged and wildly entertained.