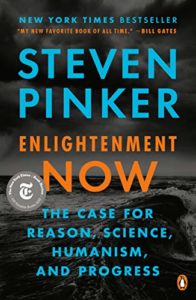 Whether you get your news from the internet, television, newspaper, radio, or any other media outlet, it can be downright depressing. Headlines abound of natural disasters, terrorism, war, territorial disputes, violent crimes, and, these days, continuous coverage of the pandemic. It's enough to make you think we live in the darkest of times.
This constant negative news cycle led me to read Factfulness by Hans Rosling last year. If you haven't read it, I highly recommend it. It's one of my Must Reads and at the top of my books to read in 2020. The book puts the news cycle into its proper perspective and makes you realize that we actually live in the best times ever known to humanity.
I've made this opinion known to many people, and in one of those discussions, a friend told me that I had to read Enlightment Now by Steven Pinker. Since I like to get input and insight from different sources on a subject, and since this was a very good friend and trusted source, I made it a point to put the book near the top of my reading list for this year.
Continue reading