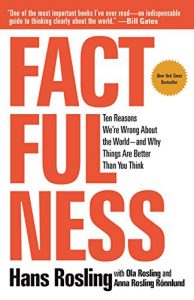 Turn on the evening news, and you will be overwhelmed with the tragic events of the day:
Terrorist attacks
Horrific storms and natural disasters
War, or the imminent threat of one
Mass shootings
School violence
Kidnappings
Animal attacks (e.g. sharks, bears, lions, etc.)
And the list goes on. It's pretty easy to come to the conclusion that the world is a lot more dangerous, unsafe, and scarier than it's ever been.
If you subscribe to the premise that the world is a more dangerous place, you should grab a copy of Factfulness by Hans Rosling. Rosling takes a measured, fact-based approach to show that the world is not as dangerous as the media would lead us to believe. Using numbers and statistics, he shows us that the world has never been a better and safer place than it is today.
Continue reading