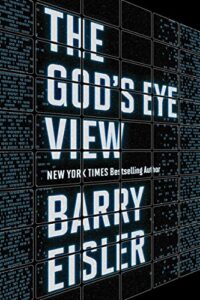 In June 2013, Edward Snowden provided reporter Glenn Greenwald with top secret documents from the NSA. It was the first of many leaks Snowden would supply to various media organizations. Those leaks revealed both the breadth and depth of the US government's surveillance programs.
The leaks ignited a firestorm of controversy. People were appalled at the amount of information the government was collecting from individuals around the world, including its own citizens. Reforms of surveillance programs were requested, demanded even.
Were these reforms ever implemented? We'll never know.
One would be naive to think our government no longer collects people's personal information, listens to their private conversations, or monitors their movements. I'm convinced the government is collecting even more data about us than when Snowden made his revelations.
Apparently, I'm not the only one who thinks this way. In his fictional novel, The God's Eye View, author Barry Eisler explores how the government might still be collecting data on us, and the consequences of such a program if a megalomaniac happened to be in charge of the agency responsible for safeguarding that information.
Continue reading