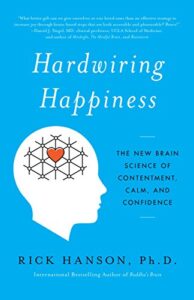 Every day, we have to make hundreds of choices, if not more. One of the most important ones we make is at the beginning of every day. We must choose our disposition. We can choose to be happy, or we can choose to be miserable.
Researchers have proven time and again that those who choose happiness tend to live healthier, more successful, and overall better lives. The Happiness Advantage is one of my favorite books that examines this correlation.
For most of us, we have to make a conscience decision to be happy. It is not something that comes naturally. But what if we could make happiness our default operating condition? Dr. Rick Hanson explores how one can achieve this state in the book Hardwiring Happiness: The New Brain Science of Contentment, Calm, and Confidence.
Continue reading