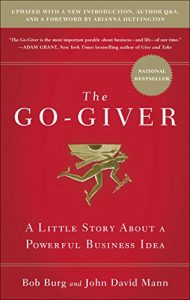 I'm going to kick-off this book review with a short story that shows the network effect as it applies to books. You see, a couple of years ago, I had the opportunity to attend a Ninja Selling installation in Orange County. It turned out to be a significant event for me. It wasn't because of what it taught me about selling. It was the information they presented about creating the proper mindset for success. The installation inspired me to read Larry Kendall's book, Ninja Selling: Subtle Skills, Big Results, which I liked a lot. One of the books that Larry mentioned in his book was The Go-Giver by Bob Burg and John David Mann. Larry talked so highly of the book that I knew that I had to add it to my 2018 reading list.
The Go-Giver is a short, simple and powerful story about a man named Joe. Joe is looking for a last-minute, instant solution to help him meet his quarterly sales target. One of the more senior (and seasoned) sales people in the office puts Joe in touch with a person known as the "Chairman". When Joe meets the Chairman, he is taken on a week long journey where he is taught the "Five Laws of Stratospheric Success." These laws turn out to be universal truths that apply not only to sales, but to life in general.
In addition to the Laws of Success, the book is filled with lots of other great quotes and pearls of wisdom, such as:
"You get what you expect."

"What you focus on is what you get."

"Ultimately, the world treats you more or less the way you expect to be treated."

"Your true worth is determined by how much more you give in value that you take in payment."

"Your compensation is directly proportional to how many lives you touch."

"The most valuable thing you have to give people is yourself."

"The point is not what you do. Not what you accomplish. It's who you are."
And these were just a sample of what I found when I browsed through my notes and highlights. There are many more poignant and insightful passages sprinkled throughout the book.
What I really liked about The Go-Giver is that its lessons are woven into an easy to digest story. It's nice to be entertained while learning at the same time. The other bonus is that its direct, meaning that it's not filled with a bunch of superfluous content.
As you would expect, The Go-Giver is on my Must Read list. I can see why Larry Kendall recommended it so highly. Best of all, it doesn't just apply to those in sales or business. It applies to everyone and anyone – entrepreneurs, business owners, leaders, sales people, or anyone who is just looking to get more out of life and be the best that they can be.