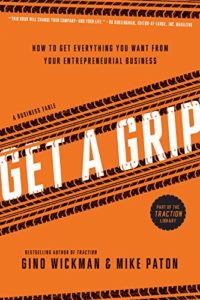 Most business books tend to be dry and boring. An author introduces a framework or set of concepts. These are explored in detail. Theoretical examples of how to apply them are given. Every once in a while, I'll come across a business book in this format that is well written and reads easily. For the most part though, these books are a slog and take me a long time to read.
The business books I like are those that weave the framework or concepts into a story. They are easier to read and entertain at the same time. While I may not be able to apply or use the concepts presented, more often than not, I read through this style of business book faster. It feels a lot less like work and is way more enjoyable.
My latest business read, Get A Grip: An Entrepreneurial Fable by Gino Wickman and Mike Paton, uses the story-telling style to introduce their Entrepreneurial Operating System framework, or EOS for short.
Continue reading