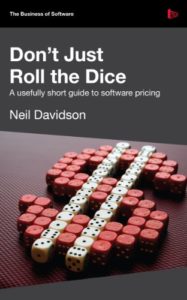 No, this isn't a book review about gambling. although it tends to be the way most companies price their product, especially when the product is software. Why is that?
Pricing a software product is a difficult, challenging task. The problem is that the cost of software doesn't lie in making another copy. The marginal cost to make an additional unit is effectively zero. The internet has eliminated the cost of distributing it. So if production and distribution are free, what makes software so expensive?
It's the cost of the people required to develop, market, and sell it. These elements add up quickly and can get very expensive.
In Don't Just Roll the Dice, Neil Davidson addresses the difficulties pricing software. And as the subtitle states, it is a 'usefully short guide to software pricing,' with the operative words being short and software.
Continue reading