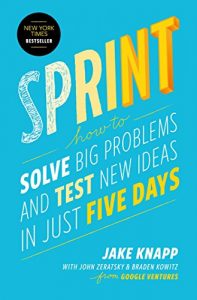 Running a technology business, I'm always on the lookout for ways to tweak or improve processes, particularly around new product development. As a smaller company, resources are valuable and precious. Chasing a new product that doesn't pan out can have dire consequences for the business. You want every advantage you can get screening product ideas and determining product-market fit.
We'd implemented agile methodologies in our development workflows, but these concepts have more of an impact on scheduling and getting product releases completed. They have minimal, if any impact on what product or features should be built. If what is getting put into the top of the development funnel isn't a viable product, it doesn't matter how fast or how good the product is that comes out the other side. You need to have a good methodology in place for building the right stuff.
For suggestions in this area, I turned to Sprint – How to Solve Big Problems and Test New Ideas in Just Five Days by Jake Knapp. I wanted to get ideas and gather insight into evaluating and fine-tuning new product ideas.
Overall, the book is good. There's plenty of great information in it. I picked up quite a few ideas about screening new products. Knapp covers all the key points from setting up the team, developing the idea, defining product features, prototyping the idea, and gathering customer feedback. It's an impressive process given how much is covered with the expectation that you will complete the process in one week. It sounds far-fetched, but Knapp lays out each day showing how to do it. He even includes examples of teams he's worked with that have done it.
While I enjoyed the book and got a lot out of it, there was one key thing I struggled with applying it to my company. I don't feel that the process is within reach for teams that are bootstrapping and/or those with limited resources. You need a team of at least 5-7 people that cover a range of disciplines to implement the process effectively. The amount of resources required would work well in a larger, established company environment, or in a well-funded startup. I was also a little concerned about the customer interview process outlined in the book. The interview is a key piece of the Sprint process. In order to be certain it is done effectively, I would recommend that the person(s) conducting the interview process have prior experience conducting the interviews, or get plenty of training and practice beforehand.
Otherwise, I'm convinced the process works. I'm working to identify ways that pieces of the process can be implemented in our new product definition process. The idea generating and brainstorming sessions, the voting process, and the prototyping pieces can be performed without needing a full team of people. These alone will help me to improve our new product discovery process, and one day I hope that I'll be able to implement all of the ideas and workflows that Knapp outlines in Sprint.