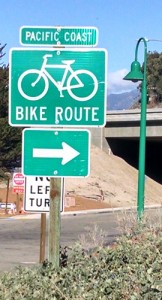 My oldest daughter Amanda and I enjoyed our first ride along the Pacific Coast Bike Route in Ventura County this past summer. We liked it so much that we decided to do it again during her winter break. We had to cut our first ride short at the Cliff House Inn since the trail was still under construction (and due to time constraints). This time, we took the trail from Marina Park in Ventura to Rincon Point at the Ventura-Santa Barbara county line.
We got to Marina Park just after 8AM, so the park gates were open allowing us to park inside. We took the same route down Pierpont Boulevard to the Omer Rains bike trail through San Buenaventura State Beach. We followed the path along the Ventura Promenade, past Emma Wood State Beach and onto the Caltrans First Adopt-a-Bike-Path in California. Then we followed Pacific Coast Highway up to Seacliff where the Pacific Coast Bike Route has been upgraded and paved during the recent Highway 101 widening project. The paved portion of the path ends at Bates Road, which is where we decided to turn around.
From Marina Park to Bates Road is 16.25 miles in one direction, so this is a fairly long ride by my standards. Although the ride gets long, the views along the beach are beautiful. It was especially pretty given how clear it was.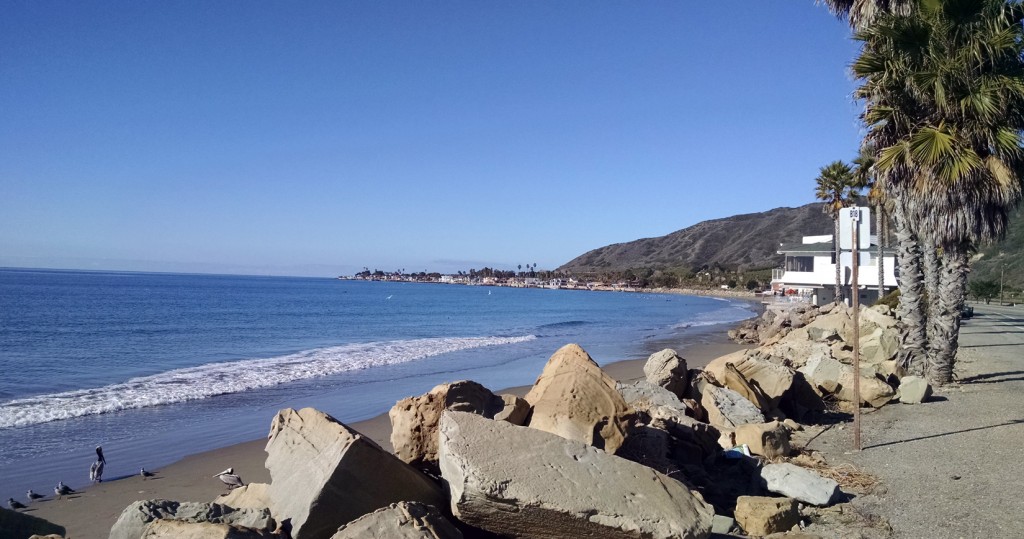 Below is the profile for the ride. We were helped by the wind on the ride to Bates Road, so our time was better on the way out. It made for a longer ride back. I was pretty gassed by the time we returned to Emma Wood State Beach, and there were still five miles left to go. To see the split times by mile, click here.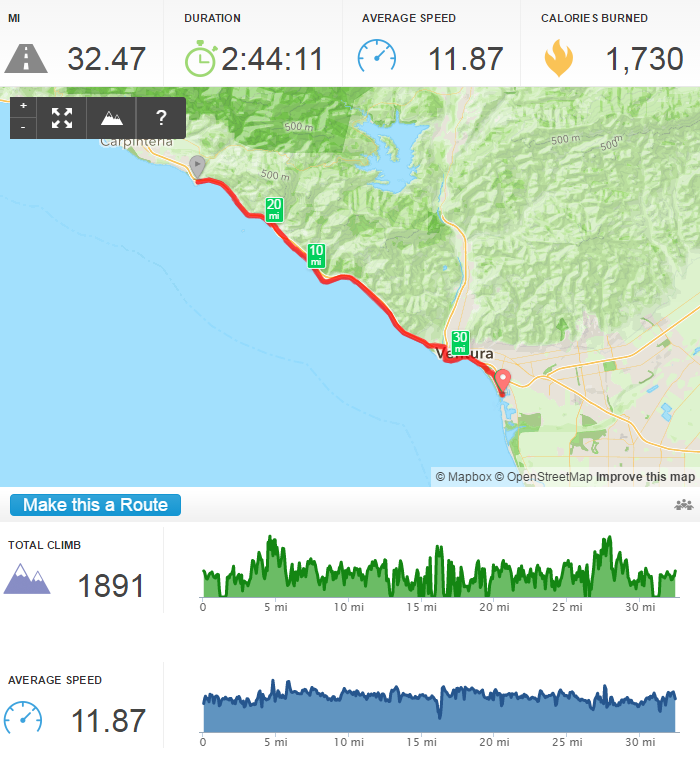 This ride is definitely one of my favorites, and one that I plan to return to regularly. It ranks right up there with the Marvin Braude Bike Trail in Los Angeles and the Ventura River/Ojai Valley Trails. These are my three favorite bike rides in Southern California. Granted, I don't get out much, bit I think you'd be hard pressed to find rides that are more enjoyable and picturesque. Having said that, I'm open to recommendations. Feel free to leave them in the comments!