2021 was the ninth year for the blog. As I've done every year, here's where I share some stats and the things I've learned over that time.
Year 9
I launched the blog in November 2012 with the post simply titled, Why? Since that first post, I've published an additional 570 times.
The reasons why I started blogging then are the same reasons why I continue to blog today. Maintaining a blog for 9 months is hard, let alone staying consistent for 9 years. I attribute the consistency to having a purpose that is about more than accumulating traffic and pageviews, as I outlined in that original post. It's also helps that I've used it as a means to track the books I read, document recipes, and maintain how-to's that I can reference when I need to do something again. In other words, I don't lack for topics to write about.
Blog traffic
However, it's always fun to look at the numbers. For the most part, it doesn't influence what I write about, but it is interesting and satisfies my curiosity. As you can see, the blog has attracted more than 200,000 users over the last 9 years and served up more than 300,000 pages.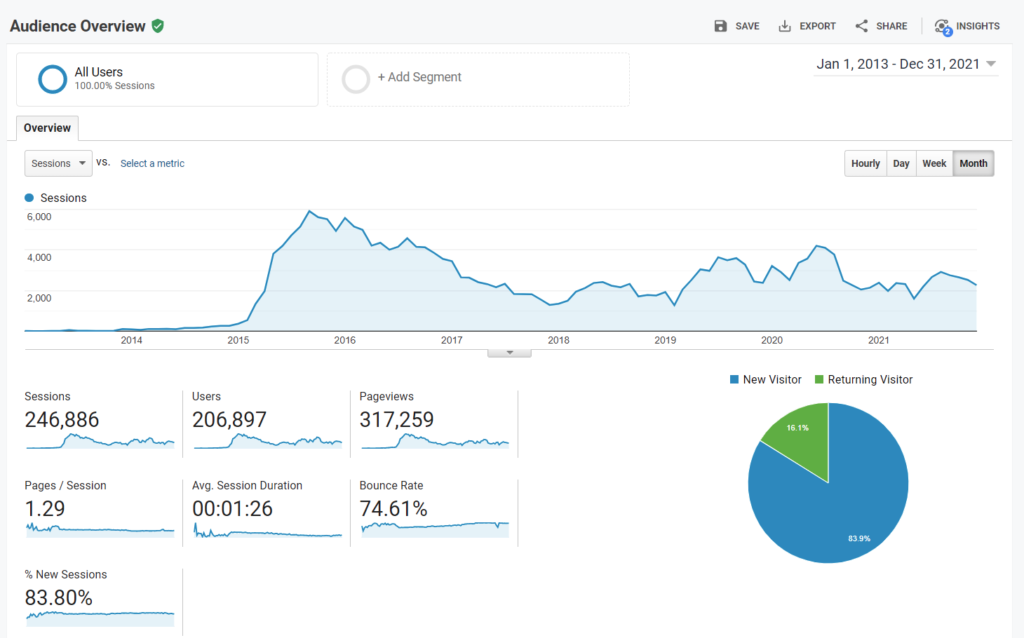 Taking a closer look at 2021 shows that traffic was down about 30% from 2020. Although traffic was down, it was fairly steady throughout the year. Overall, engagement numbers such as pages/session, average session duration, and bounce rate were all better, which is indicative of people engaging more with the content on the site.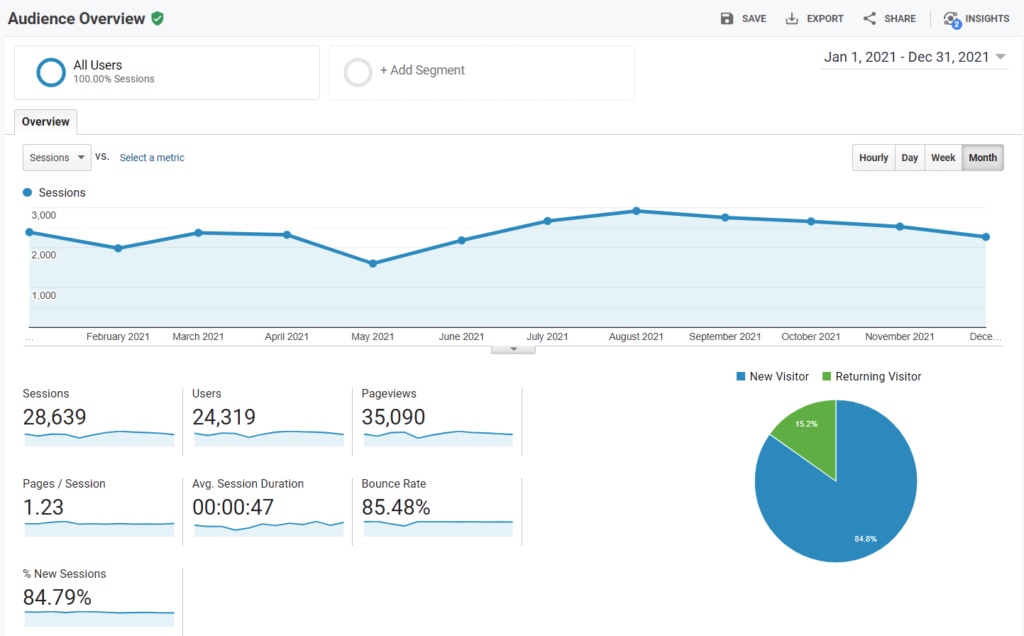 Traffic lessons learned
I've been finding that traffic is driven by a small number of posts. From 2015 – 2018, it was a how-to I wrote about installing DD-WRT on a TP-Link router. In 2019 and 2020, an article about my experience fasting for 48 hours brought people to the site. Last year, it was an article about upgrading an AWS EC2 server from PHP version 7.2 to PHP version 7.4.
In each case, Google searches drive the traffic. There is an initial traffic bump when a new post goes live that decays slowly over time. These high traffic posts drive over 50% of the blog traffic for any given month, with the other 570 posts making up the remainder.
My lessons for traffic and posts hasn't changed over the years. For documentation purposes, here are the three lessons that have remained constant:
Original content matters
Depth (i.e. quantity) of content matters
The long tail (of search) generates most of the traffic
Blog posts by the numbers
I have a standing goal to post 100 times each year. I've yet to achieve that goal, although I came close in both 2019 and 2020. Posting 60 times last year was a regression, but not the worst year on record.
Blog posts: 2013 – 2021
| | |
| --- | --- |
| 2013 | 71 |
| 2014 | 73 |
| 2015 | 59 |
| 2016 | 57 |
| 2017 | 36 |
| 2018 | 24 |
| 2019 | 93 |
| 2020 | 96 |
| 2021 | 60 |
I posted consistently throughout the year, with the exception of a single post in April and a goose egg in June. Were those months average, I still wouldn't have broken 100 posts for the year. To meet my goal, I need to post twice per week, which equates to 8-10 posts per month.
2021 by month
| | |
| --- | --- |
| January | 5 |
| February | 6 |
| March | 6 |
| April | 1 |
| May | 8 |
| June | 0 |
| July | 6 |
| August | 5 |
| September | 4 |
| October | 5 |
| November | 5 |
| December | 9 |
Popular content
Another interesting thing to look at are the popular posts on the blog. I break it down into 3 categories – the most popular posts published during 2021, the most popular posts in 2021, and the most popular posts since launching the site.
Most viewed – published in 2021
Most viewed posts in 2021
Most views posts since launching the blog
2021 goal results
My goal for last year was simple – to post 100 times. I didn't hit the goal, but I'd still consider posting 60 times a minor win. In fact, I'd consider keeping the blog active and alive for the whole year a success in and of itself.
2022 goals
Just like last year, I'm keeping this year's goal simple – post 100 times. As I recently wrote, it's about showing up. As long as I show up and keep posting in 2022, the year will be a success.