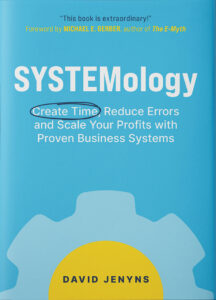 When it comes to business books, I tend to drop them into one of 5 categories:
Founder/CEO autobiographies – these are the glamorized stories told by the founder recounting their effortless journey to massive success.
Founder/CEO biographies – these are told by a third party and go behind the scenes to tell the real stories of how a founder succeeded or failed.
Company biographies – these describe how a business evolved from inception to success, demise, or to present day.
Theoretical frameworks – these are those books that feel like college textbooks and are usually told by people who haven't run a business but by researching successful businesses publish the common themes that led to their success.
Practical handbooks – these are the books written by people in the trenches who have experienced the emotional highs and lows of starting a business, lived to tell about it, and then documented their findings into a handbook that others can use.
I find the books in categories two and three entertaining, and generally dislike those in categories one and four. Founder/CEO autobiographies feel too much like a self-congratulatory pat on the back, while theoretical frameworks are a slog that try to separate a framework from a complex business system. The resulting framework is hard to apply and rarely succeeds, especially when trying to apply it to a small business.
It leaves those books in category five, which I've really come to enjoy. I call these practical handbooks because they teach you straightforward concepts and give you suggestions on how to apply them in your business. In some cases, these suggestions are broken into steps you can follow to help get you started. Books like Allan Dib's1-Page Marketing Plan and Donald Miller's Building a Story Brand fall into this category.
The latest book I read that clearly falls into the practical handbook category is Systemology: Create Time, Reduce Errors and Scale Your Profits with Proven Business Systems by David Jenyns.
---
Before proceeding, a brief disclaimer: I received a copy of the book as a gift (i.e., free) from the author and was asked if I would write a review when I finished it. The opinions expressed herein are my own and were not influenced by the publisher or author in any manner. 
---
As someone who has run a small business for almost 15 years, Systemology is the handbook I wish I had 7 or 8 years ago. My business was gaining traction, but we had reached a point where the business was hitting a ceiling. I was involved in every aspect of the business and nearly every decision. To be blunt, I had become the bottleneck limiting business growth. It wasn't obvious at the time, but reading through Systemology made it pretty obvious what I should have done in hindsight. Instead of trying to control every aspect of the business myself, I should have been working on putting systems in place so the business could run itself. Or better yet, as David points out in his book, I should have had the experts I had hired create the systems that were necessary to eliminate the bottleneck, which was me!
In true handbook fashion, David introduces 7 things you need to do to systemize your business:
Define
Assign
Extract
Organize
Integrate
Scale
Optimize
There is a chapter dedicated to each step where Jenyns goes into the details and provides the steps you can take to implement each item. Even more helpful is the companion website to the book where he has videos, interviews, case studies, and resources such as the Critical Client Flow (CCF) worksheet to help you implement the key concepts. I got a lot out of the companion website. It demonstrates how much Jenyns is committed to and believes in his system. Moreover, he has not only used it successfully in his own businesses but also helped numerous other business owners systemize their business, unlocking the business' true potential and maximizing its value.
Typically, books that describe business systems are geared toward large businesses with plenty of resources. Rarely do you find a book that shows a small, single owner business how to put systems in place while explaining why its both important and critical to do so. It makes Systemology a diamond in the rough, and a book that needs to be on the bookshelf of every small business owner. And while the book is targeted mostly toward small and medium-sized businesses, it's not exclusively for them. If you are running a large business, or running a group or department within a larger business, there is a lot you can apply from Systemology, if not all of it. Bottom line, it's a book that I would highly recommend not just for the SMB market but for businesses of all sizes.
Given I've had to scale back and restart my business from scratch, Systemology is going to go back onto my bookshelf, for now. I know I'll be getting it back out when my business gains traction again. And this time, unlike last, I'll be using the concepts in Systemology to put the systems in place that will unlock the business' full potential and maximize its enterprise value.