It's interesting to see the path people take developing their skills, interests, and hobbies. I'll read stories about those who are passionate about something and have focused intently on building a skill since they were little kids. They've written books, created television shows, maintain active social media channels, and have loyal fan bases. It seems so simple. Pick something. Focus on it. Become an expert.
I've rarely found that to be the case for me. I also doubt that it's the case for most other people as well.
When I look back on my hobbies, it's more of a long and winding road than a straight path to success. I find that I tend to dabble in lots of things, working on them here and there. I'll accumulate knowledge and skill until it reaches a flashpoint. Then, out of nowhere, a spark comes along, and wham! I'm hooked.
Such is the case with how I developed my passion for baking.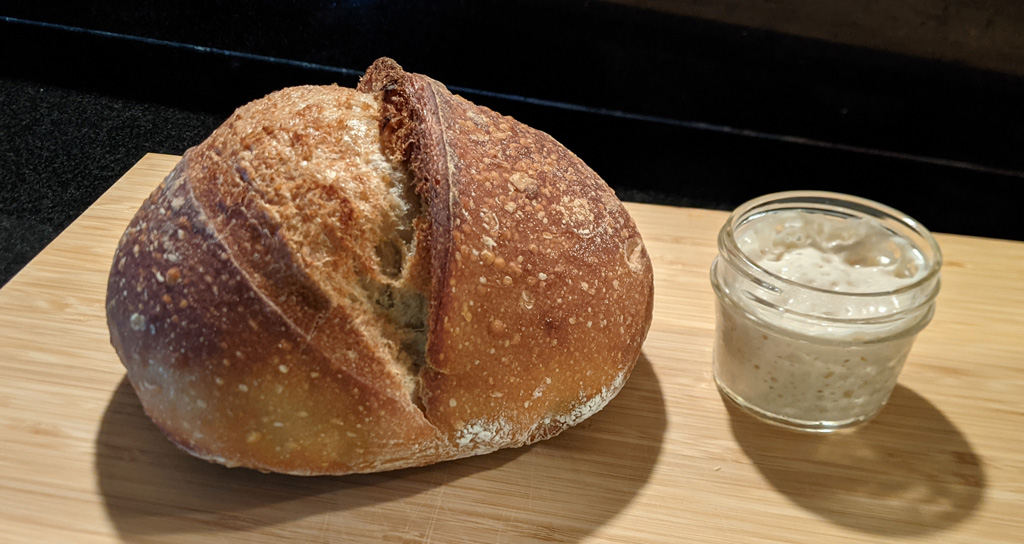 I suppose there's always been a latent interest in baking that developed when I was young. I remember helping my mother bake cookies, brownies, and the occasional cake. One of the ways she attracted me into the kitchen was getting to lick the beaters. Obviously, I wouldn't recommend it when there's raw egg in the batter, but fortunately I lived to tell about it. I also enjoyed my grandmother's baking. While I didn't participate in the process, I have fond memories of eating her delicious apple pie and other tasty treats.
When I moved away from home, I got away from baking. There always seemed to be too much going on. Between college, work and family, it didn't feel like there was any time left over to spend "playing" in the kitchen. If I was in the mood for a treat, it was more convenient to grab a package of cookies or a pie from the grocery store.
Back then, if I spent any time in the kitchen, it was helping with the cooking. While I enjoy it, it's not the same as baking. Baking is a science, which speaks to me. Sure, there's some science in cooking, but cooking is more of an art form. A good cook might work from a recipe, but they understand how and where to deviate from what's written to take a meal from good to great. I never found my footing or comfort level with that amount of experimentation.
I had almost given up on working in the kitchen when, around ten years ago, I had an unsettling thought. I was concerned that if I didn't learn some of my grandmother and mother's baking secrets, that our family recipes would disappear. I was going to have to learn how to become at least a decent baker if I wanted to be able to continue handing the recipes down. I chose chocolate chip cookies as my first baking project, and then moved onto my grandmother's apple pie.
I wasn't passionate about it at first, but I felt comfortable with the process. I enjoyed discussing various trade-offs and experiments with my mother. More importantly, I found that baking was a good way to spend time with the family. Enlisting the help of Lisa and the kids made for fun times and continues to do so to this day.
As I got more comfortable with cookies and pie, I ventured out into other baking endeavors. I learned my grandmother's pierogi recipe. With that under my belt, I starting making my own pasta and ravioli. Technically speaking, these may not be baked products, but I consider them more baking than cooking because these items are all about the preparation. You can't taste the end product until it's cooked. Once you mix it and set the process in motion, you can't change the outcome as you're cooking it. In my opinion, it's the biggest differences between baking and cooking. A baker follows a repeatable recipe. A cook uses a recipe as a guide and adjusts course to get the results they want. Cooking is an art backed by science. Baking is a science backed by art, which, again, is why I prefer to bake over cook.
Cookies, pie, pierogi, pasta, ravioli. I was building knowledge. The kindling was there. The only thing missing was a spark – that came along last year.
As part of my reduced carb intake, I had cut bread from diet. I felt like I might have been missing out. People have been eating bread for thousands of years, so it can't be all bad for you. I figured it was more the modern processing and additives that were giving bread a bad rap rather than bread itself. So, I decided I'd start eating bread again under one condition. I had to make it.
I found a simple recipe for no knead bread from the King Arthur website. It took a loaf or two, and before I realized it, I was making bread! Sure, I was cheating a bit using commercial yeast, but still, it was a significant milestone. There was just one step left, and that was making the leap to nurturing my own sourdough starter.
I'd heard stories about maintaining a starter. I read a really entertaining novel about a starter that took over someone's life. I was intimidated. I wasn't sure I wanted the responsibility of caring for a starter. It seemed like a lot of work. I resisted. I stuck with the commercial yeast. I'd found my comfort zone.
Well, I couldn't leave well enough alone. I read more. I researched. The more I studied, the more I became convinced that I needed to start baking bread with my own starter. The kindling had been lit. The fire was blazing. It was time.
My first try at a starter was an epic fail. A smart man would have cut his losses and went back to what he knew, but I'm not THAT smart. I decided to stick with it.
I'm glad I did. Take Two was a success. I produced my first sourdough loaf back in November and have been maintaining and baking with it ever since.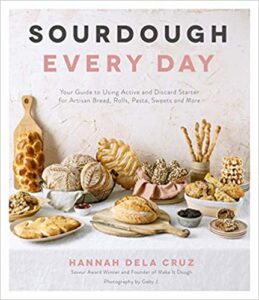 One thing they don't tell you about maintaining a starter is that you produce a lot of discard. Since I hate wasting things, especially food, I had to find ways to use it. Fortunately, a quick search of the Internet produced lots of results. The King Arthur website also provided me with lots of great ideas, out of which I found a few of my favorites. The real game changer, though, was a book Abbey bought for me as a Christmas gift, Sourdough Every Day. If you are even somewhat serious about sourdough, this is a must have for your kitchen. There's great information in it about growing and maintaining your starter, numerous ideas for active starter, and, most importantly, plenty of great ideas for discard – lemon ricotta pancakes and ramen noodles are two of our family favorites. It also showed me how to use discard to augment our pasta, ravioli, and pierogi. It's pulled me deeper into the rabbit hole. So deep in fact, that I don't think I'll be able to make it back out!
So what's the point of this post? I finally discovered that I have a passion for baking. I love it. It wasn't a straight path. It was definitely more of a meandering, long and winding road, but it was worth it. And yet there's so much more to learn. I can't wait to see where this road leads.
So now that you've heard my story, what's yours? Feel free to share your baking experiences in the comments. I'd love to hear how you were bit by the baking bug.