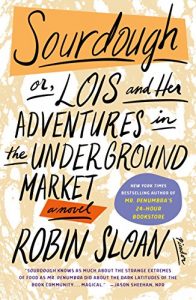 One of my all-time favorite books is Mr. Penumbra's 24-hour Bookstore by Robin Sloan. I loved how he showed that life's real adventures are the ones that don't rely on technology. They occur when we connect with and engage our friends to help us solve problems and find the answers to what we're looking for.
Given how much I liked his debut novel, I was looking forward to reading his second book, Sourdough, or Lois and Her Adventures in the Underground Market. It was released in 2017 and languished on my 2018 reading list. A nudge from one of my top recommendation sources, Brad Feld's blog, nudged it to the top of my reading list earlier this year.
Much like his first book, Sourdough's main character is a young 20-something software engineer working in San Francisco named Lois Clary. Her job has forced her into a serious life-work imbalance, with work winning out, until she is given ownership over a Sourdough starter. The catch is that this isn't your ordinary starter. It takes on a life of its own, which, then again, may not be that unusual for people familiar with sourdough starters.
In any case, Lois' adventures with her Sourdough starter take her on a unique journey into San Francisco's hidden food scene. As he does in Mr. Penumbra's 24-hour Bookstore, Sloan shows us that not every problem can be solved with technology. There are times when we have to let go of our desire to want to control everything and let nature do its thing.
I thoroughly enjoyed Sourdough. It wasn't quite as good as Mr. Penumbra's 24-hour Bookstore, but it's right up there. It's engaging, whimsical, and fun to read. Yes, he does weave in a few technology aspects to make it interesting, but Sloan always return to the power of the human touch. Since I enjoy spending some time in the kitchen myself now and then, I appreciated how he emphasized the importance of maintaining and passing food recipes down through the generations. Sure, the technology is great, but it's those secrets from Mom and Grandma that really make the difference between a good dish and one that is out of this world.
Sourdough is a solid addition to my Fun Read category. It's a great story that bucks the trend of technology taking over and dominating our lives. It's a refreshing read in which Sloan once again reinforces the special power of the human spirit.