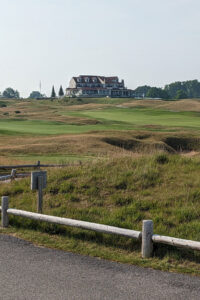 Brad and I like to do a golf trip every year. This year, we decided to go to Northern Michigan. It was going to be hard to surpass the experience of our last two trips – The Monterey Peninsula and Bandon Dunes. In fact, I'm not sure anywhere, outside of a trip to Scotland or Ireland, would compare to those locations, each of which I would highly recommend. Northern Michigan, on the other hand, wasn't anywhere near the top of my list of golf destinations. In fact, it wasn't even on my list. Needless to say, my expectations were pretty low.
For the trip, we did a little research, broke out Golf Digest's list of top public golf courses, and did some asking around. We put together a list of courses that included Forest Dunes, Garland Lodge & Golf Resort, Grand Traverse Resort, and Arcadia Bluffs.
Before getting into the details, let's just say I was pleasantly surprised.
The Itinerary
The starting point for our trip was the Detroit-Ann Arbor are. We headed north on Sunday morning with the following plan:
The only adjustment we made was at the end of the trip. We enjoyed our round at The Bluffs Course so much that we decided to take on The South Course at Arcadia Bluffs on Wednesday afternoon before heading back.
The Courses
Here's my thoughts on the venues we played starting with my favorite and then proceeding down from there. And just to be clear, all of the courses are great. It's just that I liked some courses more than others.
Arcadia Bluffs
Without a doubt, The Bluffs Course at Arcadia Bluffs was by and far the best of the group. It's in the top 15 of Golf Digest's top public golf courses with good reason. For both Brad and me, it's one of the best courses we've played. It's one of our favorites right up there with Pacific Dunes and Pebble Beach. The course layout takes advantage of the terrain overlooking Lake Michigan. The layout is challenging but not punishing, meaning good shots are rewarded, mediocre shots leave you a chance, and bad shots get penalized. To top it off, the views are magnificent, and the facilities are spectacular, with the clubhouse visible from nearly every spot on the course.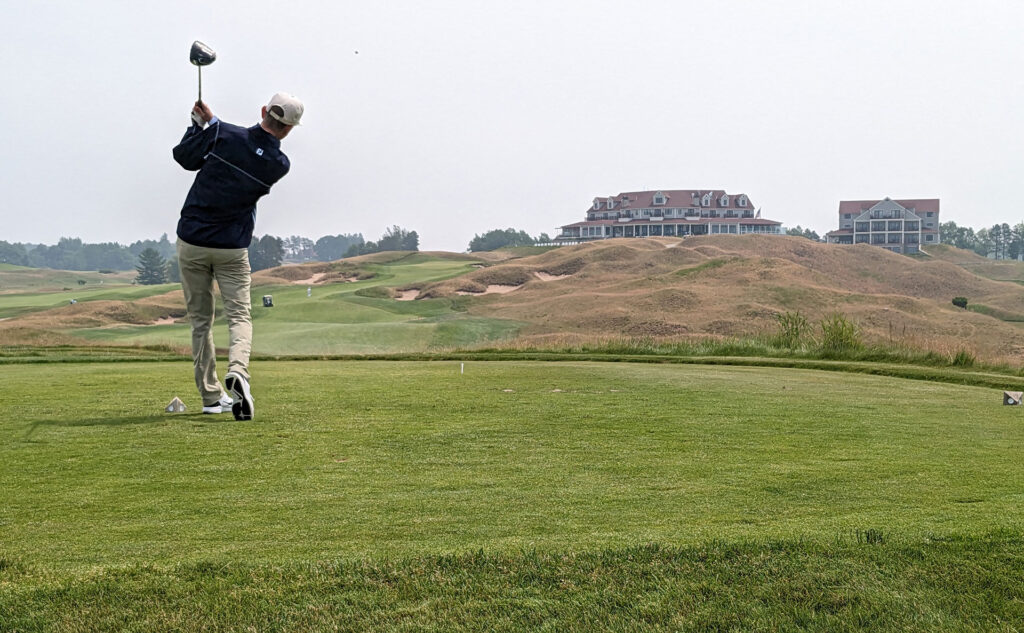 The South Course is also a great layout. It's about a 2 mile drive from The Bluffs Course and a bit inland. Every green is large, elevated, firm, and surrounded by strategically placed bunkers. The South Course feels and plays like a links course, so it was a good challenge to follow The Bluffs Course. The South Course also makes an appearance on Golf Digest's list, but much further down the list compared to The Bluffs, which is expected.
Forest Dunes
Forest Dunes Golf Course was my second favorite course on our trip. It's a fun layout that takes advantage of the natural features of the land, winding through the trees and over wind-swept dunes. The course layout is challenging, and much like Arcadia Bluffs, not punishing. Forest Dunes is also a top Golf Digest public course, typically placing in the top 40.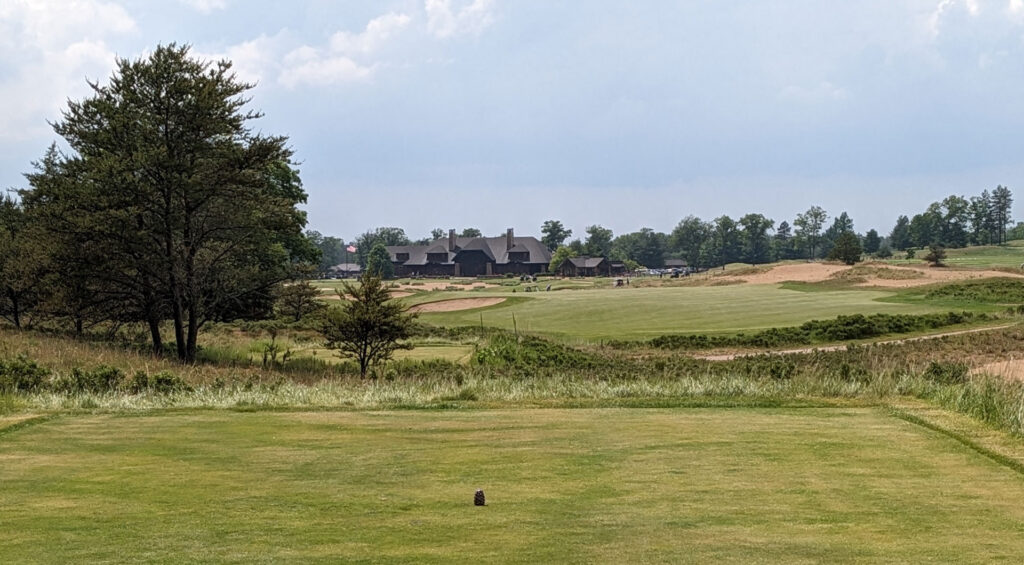 It's a bit out of the way in Roscommon, MI, but worth it if you can fit it into your itinerary. If there were any regrets on the trip, it was only having time for one round at Forest Dunes. At some point in the future I'd like to go back and play one of The Loop courses.
Grand Traverse Resort & Spa
The Bear is touted as the most difficult course in Michigan, with a rating of 76.1 and slope of 150 when played from the tips. Brad and I didn't play from the tips, but the course was still challenging. Unlike The Bluffs Course and Forest Dunes, The Bear's difficulty is a bit manufactured. It requires thought, placement, and precision to stay out of trouble. It's one of those courses that plays easier, relatively speaking, once you've acquired course knowledge. In other words, once you know where the "safe" zones are on the course, you can make your away around it without taking a beating.
The Wolverine, on the other hand, is more of a resort course. Sure, there's trouble if you're spraying the ball all over the place, but the fairways are wide and the greens are generous. It was good to play The Wolverine as a warm-up in the morning and then follow-up with The Bear as more of a challenge in the afternoon.
Garland Lodge & Golf Resort
Garland Lodge & Golf Resort is a golf destination. There are four courses on the property with ample lodging. Brad and I stayed on the property. The accommodation aren't 5-star in nature, but they're not meant to be either. The resort is meant for those looking to golf…, a lot. We ran into many groups doing destination golf trip – staying on property for two or three days and playing as many rounds as possible.
Of the two course we played, I enjoyed Monarch over Fountains. I would consider Monarch a classic target golf course. It requires precision off the tee to setup approach shots into the greens. If you are able to control the placement of your tee ball, you can attack pins and score on Monarch.
Fountains, on the other hand, is punishing to the point of being unfair. Fairway landing areas are obscenely narrow. There are lots of holes with approach shots that are long, forced carries over water or waste areas. And the finish to your round, which includes the 200-yard par 3 18th to a green guarded by water, is extremely challenging. Fountains is another course that requires course knowledge to score well, and even then it's going to be a challenge. My advice is bring plenty of golf balls and don't worry too much about your score. Simply enjoy the camaraderie with friends and the scenery, of which there is plenty to gawk at while on the Fountains.
Overall
Our trip surpassed expectations, by a lot. Again, Northern Michigan golf may not be in the same league as Bandon Dunes or the Monterey Peninsula, but courses such as Arcadia Bluffs and Forest Dunes can certainly hold their own. They are right up there among the best places that I've ever played.
Bottom line, if Northern Michigan isn't on your bucket list of golf destinations, add it. And when you do, make sure that both Arcadia Bluffs and Forest Dunes are part of your itinerary. They'll easily make it worth the trip.