I recently had the opportunity to take a once-in-a-lifetime golf trip. I got to play four incredible golf courses on the Monterey Peninsula – Pebble Beach Golf Links, Spyglass Hill, The Links at Spanish Bay, and Poppy Hills. It wouldn't have been possible without the help and efforts of the Southern California Golf Association, for which I am very grateful.
I wrote about the overall trip previously. This post is going to focus on my rating of the courses that I was fortunate enough to get to play.
I want to start this review by stating for the record that all four courses are magnificent. All of them are solidly in the top 10 golf courses I've ever played. My purpose for writing this review isn't to downplay any of the courses. It's partly for my personal record, and partly to help anyone who might have to choose between playing only one or two of these courses during a visit to the area.
I'm going to split the ratings into two type. One ranking of the courses will focus on the overall golf experience while the second will focus just on the golf course layout.
The Golf Experience
1. Pebble Beach Golf Links (website)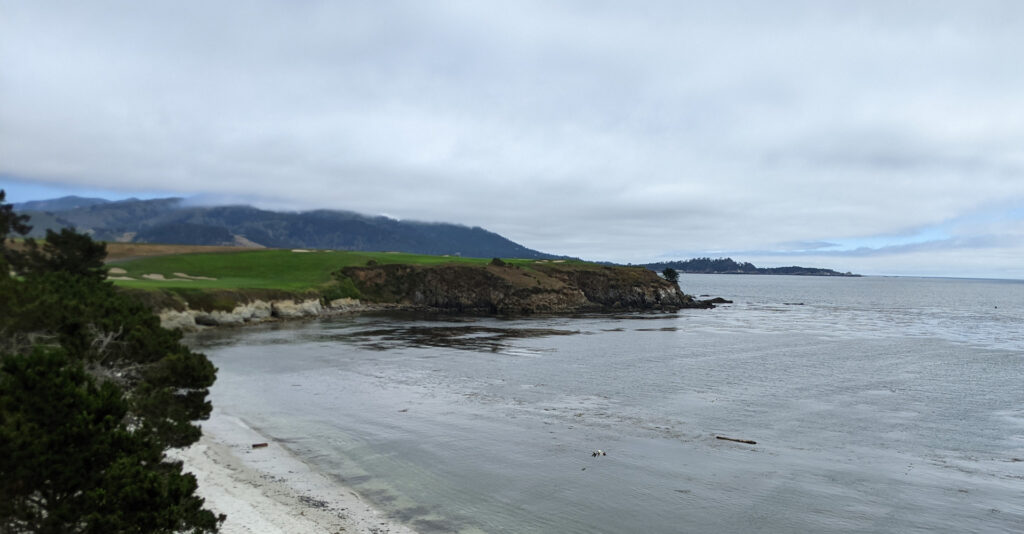 There is nowhere you can golf that tops the experience at Pebble Beach. Maybe my attitude will change once I have the opportunity to golf in the UK or Ireland, but until then this is my story, and I'm sticking to it.
From the moment you start walking the grounds, you'll have goosebumps. It's a living history book of golf. There's so many memorable moments from US Opens, Pro-ams, and numerous other USGA events. Everywhere you walk you're reminded of images you've seen on and in television, movies, books, and magazines. The golf course itself does not disappoint. It's always in great shape, and the view from just about every hole is incredible. To top it off, the staff is extremely helpful and friendly which only adds to the experience.
I know the price is steep to play there, but it's worth doing at least once. You won't regret it.
2. Spyglass Hill Golf Course (website)
Spyglass may not have the tradition and history of Pebble Beach, but it ranks right up there when it comes to golf experiences. The course itself has a good mix of holes by the ocean and through the forest. I found the staff to be helpful and friendly. I'd have to say that it was one of the more enjoyable rounds of golf I've ever played.
3. Poppy Hills Golf Club (website)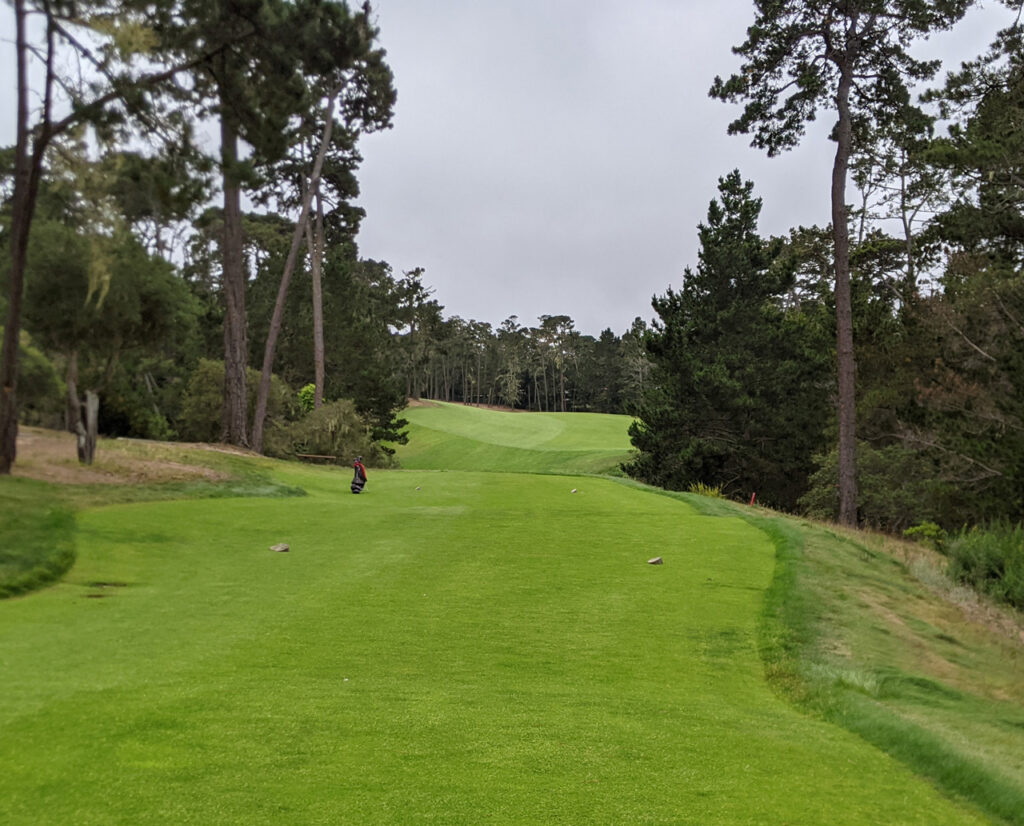 Poppy Hills was a last minute addition to our trip, and one I'm really glad we made. There's nothing spectacular about the facilities or amenities, but the golf experience was extremely enjoyable. We chose to walk the course, which can be a bit of a challenge given the elevation changes. It was a good workout and worth the effort. The scenery is incredible and relaxing. Someone even pointed out that when you listen carefully, you can hear the roar of the ocean echo up the hillside.
4. The Links at Spanish Bay (website)
The Links at Spanish Bay is an interesting course. It is located adjacent to The Inn at Spanish Bay, which brings with it pluses and minuses. The pluses are that it's easy to access if you're staying at the Inn, and it has a lot of amenities on site such as restaurants and shops. The minuses are that The Inn isn't a pure golf destination, so you end up with a lot of distractions both on and off the course. Although Pebble Beach has lodging on site, those facilities feel secondary to the golf. At Spanish Bay, it felt like the golf was secondary to the hotel. Bottom line, it made Spanish Bay feel more like resort golf than a true golf experience. Just keep in mind, it's still an incredible experience, just not as pure of an experience as the other three courses.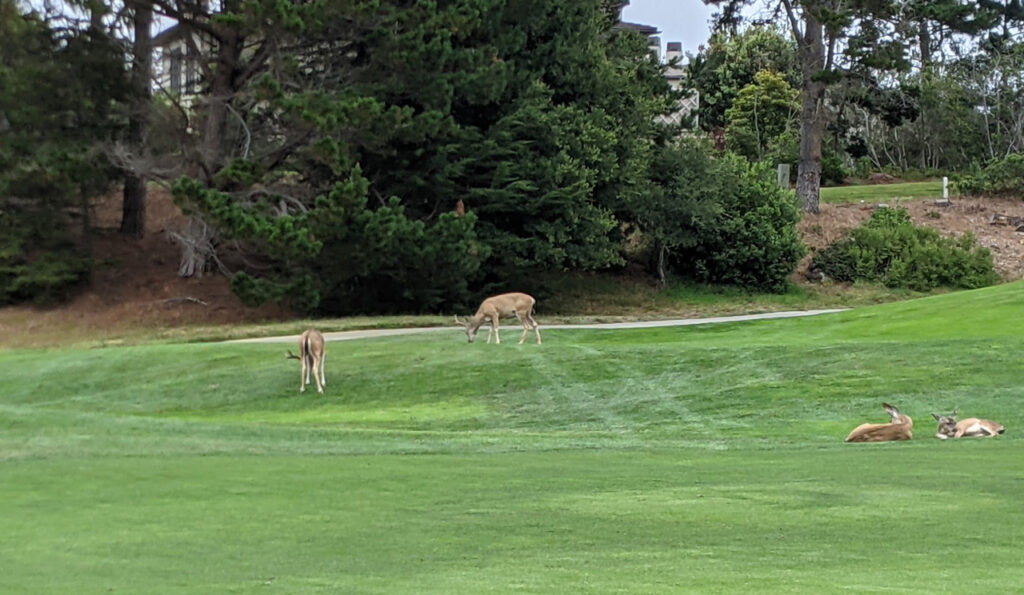 The Courses
1. Spyglass Hill Golf Course
There was a raging debate between Brad and me about the best course we played. I chose Spyglass Hill. I don't recall one bad hole on the course. They were all challenging in their own right. If I only cared about the course itself, Spyglass would be the first course I would choose to play again.
2. Poppy Hills Golf Course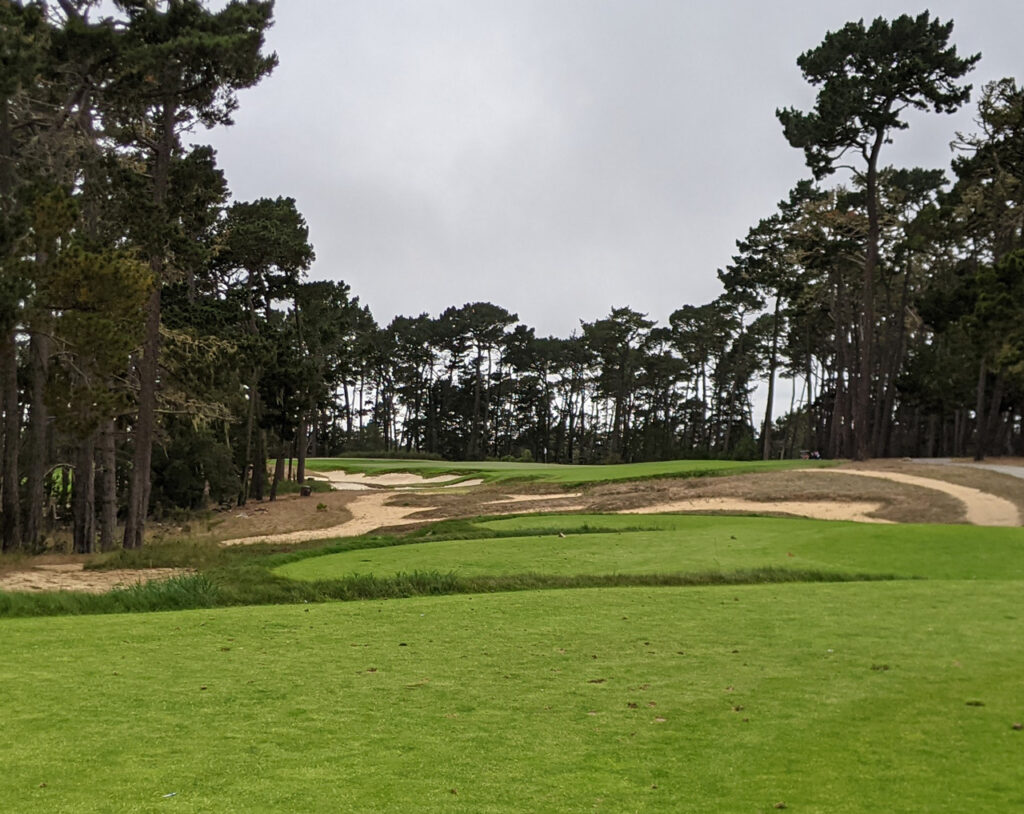 While Poppy Hills was second on my list, it was first on Brad's. I can't blame him. Choosing between Spyglass Hill and Poppy Hills was a tough choice for me too. Spyglass got the nod primarily due to its start along the ocean, but Poppy Hills is definitely a course I'd love to play again. Both Spyglass Hill and Poppy Hills are two courses that I could see playing regularly and never tiring of them.
3. Pebble Beach Golf Links
I know it's surprising, but Pebble Beach wasn't my favorite when it came to the courses. I don't know if it was too demanding, too overwhelming, or too expensive, but Pebble Beach isn't a course that I'd want to play regularly. Don't get me wrong, there isn't a golf experience that can top it. It's just that I'm not a raving fan of the layout. Just being honest – feel free to blast me in the comments.
4. The Links at Spanish Bay
I wasn't a big fan of The Links at Spanish Bay. I know it's modeled after a true Scottish Links, but I think they took it a bit too far. There are too many places where you get penalized for hitting good shots. For example, many holes have punishing fairway bunkers. I wouldn't normally complain if the bunkers were down the side of the fairway, but these were in the center of the fairway! Hit a good drive, get a bad bounce, and you're penalized at least one stroke, and maybe two depending on the lie. For a resort style course, it made for a tough day. As one of our caddies at one of the other courses said, they should really redo the course to make it less punishing, especially for the recreational, resort golfer.
General tips for a Monterey golf trip
Here are a few things I learned on my trip that I want to document and remember for next time. Hopefully you've made it this far. These tips should help make your trip to one of the true meccas of golf even more enjoyable.
Use caddies
Do yourself a favor and get caddies where you can – particularly at Pebble Beach and Spyglass Hill. You can probably pass at The Links at Spanish Bay, or just get a forecaddie for your group. Caddies make the overall golf experience so much more enjoyable. They help not only with their course knowledge but also with their general knowledge and history of the course and the area. Plus, it allows you to play golf the way it was meant to be played, walking the fairways and enjoying the company of others. I know it makes the golf even more expensive, but it's a once-in-a-lifetime experience. Caddies take it up even another notch – like turning your amplifier from 10 to 11.
Stay on property
Another item that adds to the cost of the trip but is worth it, particularly if you're playing courses over multiple days. There's something about the convenience of getting around the Peninsula when you're staying inside the gates of the 17-mile drive.
Pack appropriately
Saying the weather is variable on the Peninsula is like stating the Pope is Catholic. It's a given. I can't tell you what to pack except you need to pack expecting all kinds of weather. Let's just say that we got briefly rained on during one round. We were fine in shorts and polo for a second round. And one round it got cold enough that our caddie was wearing a wool beanie by the end of the round. Bear in mind that our trip was during the first week of July, so it doesn't matter if it's summer, winter, or somewhere in between. Be prepared and bring layers. You'll need them.
Sunscreen and lip balm a must
It was mostly overcast except for one of our rounds, which was mostly sunny. If you think you won't need sunscreen because it's overcast, think again. The UV rays are strong, and there is nothing worse than an overcast UV burn, especially when it blisters your lips. Yes, I'm speaking from experience.
Have fun, and don't worry about score
Final words of advice, don't let scoring ruin the experience. These are very challenging courses that are hard to score on. If you focus on shooting the round of your life, you will miss out on the immense natural beauty and history that surrounds you. Sure, keep score. You're supposed to. How else do you expect to measure yourself against other golfers? But keep it in perspective. Live in the moment. No matter how you play, it will be the experience of a lifetime.