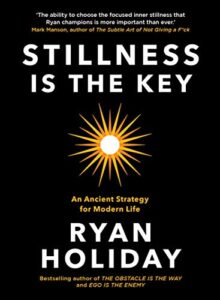 I've been reading books related to Stoicism and ancient Stoic philosophers for a few years now. I can trace my interest to Brad Feld's blog, which is one of few that I still follow regularly. He wrote a book review about The Daily Stoic by Ryan Holiday and Stephen Hanselman at the end of 2017. I was intrigued.
I had heard of Ryan Holiday. His book, Trust Me, I'm Lying: Confessions of a Media Manipulator, transformed the way I view mainstream media and popular news websites. Little would I know that reading The Daily Stoic during 2018 would change my outlook and approach to life.
Since then, I've continued my exploration of Stoicism. I've read additional books related to Stoic philosophy, including other Ryan Holiday books such as Ego Is the Enemy and Stillness Is the Key, which I recently finished.
Stillness Is the Key builds upon a key paradoxical truth of life – that to do more, we need to, we must, slow down and do less.
Today, more than ever, we are bombarded by incessant messaging. It comes from our phones, our computers, our televisions, and ever more connected devices. Our default waking state is one of constant stimulation and arousal. Because of the constant activity, it feels like we must always be busy, that are minds must always be in the "on" state, if we want to succeed.
It just isn't true. To do more, we have to do less. We have to tune out the noise. We have to connect with our inner being. We have to embrace stillness.
Using examples through history from the likes of JFK, Winston Churchill, Abraham Lincoln, and Napoleon, he shows how these larger than life figures used stillness as a means to realize their accomplishments. You would think these individuals would have been incessantly busy, but they weren't. Instead, they took the time to slow down, separate the signal from the noise, and focus their efforts on those things that were most important and of the highest value. There are valuable lessons in all these stories, and Holiday breaks them down into actionable steps and activities that you can incorporate into your daily routine.
I enjoyed Stillness Is the Key and would consider it a Must Read. There are just too many valuable lessons and examples that show how spending time in reflection allows us to get in touch with our inner sense of being. That reflection allows us to better manage our thoughts and actions, which in turn leads to building our character. And at the end of the day, the quality of our character is what matters most in our life and, ultimately, leads to our success.
While I wouldn't recommend Stillness Is the Key as the first book you read on Stoicism, it is a great book if you are looking to deepen your insights and connection to the philosophy. Personally, I would recommend starting with The Daily Stoic and How to Think Like a Roman Emperor. Then you can start branching into other works such as Meditations, Ego Is the Enemy, On the Shortness of Life, and The Manual: A Philosopher's Guide to Life.
I am sure there are many, many other great works around Stoicism. If there are any that you found particularly helpful in your studies, feel free to leave a note in the comments. Thanks!