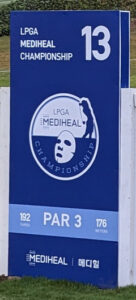 Earlier this year, I signed up to volunteer at the 2023 US Open golf tournament, which is being held at the Los Angeles Country Club. I decided to do it so I could attend the event, which is not far from home, and to see the tournament from a different vantage point – inside the ropes.
Having never volunteered at a professional golf tournament, let alone a major, there was more than a little uncertainty about what I should expect. So when the LPGA posted notices for volunteers at the Mediheal Championship being held at The Saticoy Club just minutes from my house, I jumped at the opportunity. I figured it would be a great chance to get some experience at a lower key event so I would be prepared for my assignment next June.
Overall, it was a great experience that was not without its share of an interesting story or two, which seems to have become a regular occurrence for me lately.
Continue reading