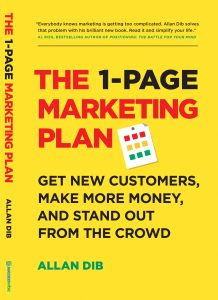 There aren't a lot of books available that apply to small business owners. Most business books focus on theoretical concepts that apply to bigger businesses and corporations. The techniques and principles are complex, require large teams and specialized resources, and may even require complex tools or software to implement. They don't take into account the limited time and budget a small business owner has.
When you're running a small business or just starting out, it's the simple things that are important. As the business owner or CEO, you need to stay focused on the marketing of your product(s) and service(s) in order to generate the sales to maintain and grow it. Usually, you don't need a lot of time, money, or resources to effectively market your business. What you need is discipline, perseverance, and a well thought out plan. Fortunately, I was introduced to a book recently that fits these requirements perfectly, the The 1-Page Marketing Plan by Allan Dib.
Before proceeding, a brief disclaimer: I received a copy of the book as a gift (i.e. free) from the publisher and was asked if I would write a review when I finished it. The opinions expressed herein are my own and were not influenced by the publisher or author in any manner. 
This is not your typical business book. I hesitate to call it a workbook, but it is a 'working' book. I would even consider it more of a handbook or business user's manual. What I mean is that you need to engage and use the provided materials to get the most out of it. One of the key resources is the 1-page marketing plan document (which actually is one page) that you will want to use to take notes and fill out as you finish the applicable chapters in the book.
What The 1-Page Marketing Plan does, and does well, is provide a simple 9 step framework for structuring the marketing and sales plan for a business. It breaks the process down into 3 phases, each with 3 parts. There's the "Before" Phase, which covers defining your target market, creating your marketing message, and reaching your target markets through effective advertising. The second phase is the "During" Phase where you capture leads, nurture them, and convert them to paying customers. Finally, there is the "After" Phase that focuses on techniques for providing world class customer service to customers, strategies for increasing customer lifetime value, and methods for generating referrals. Overall, the book is very well organized and flows nicely from start to finish. Best of all, by the end of the book, you'll end up with a simple one page plan that you can implement immediately that doesn't require lots of resources, time, or money, all of which are in scarce supply for a small business.
For anyone who owns a small or medium business, especially if sales have plateaued or are stagnating, for anyone starting a new business, or for anyone thinking about starting a business, this book is a must read. You'll want to think of this as a reference or user's manual for your business. Once you have the product(s) or service(s) that you intend to sell, it provides the structure and discipline for your marketing plan. It's like having your very own marketing coach telling you how to build an effective marketing plan and providing you the tools to do it.
It's the book I wish I had when I started my business. It's not that I wasn't aware of these concepts, but it's nice having them all bundled up and collected in one place. It also keeps you focused and coming back to what is really important when you are running a business – which is generating revenue (i.e cash). And the key to generating that revenue is effective marketing which leads to sales. And the key to sustaining and building your revenue is turning your customers into raving fans by exceeding their expectations.
The message Allan Dib presents in the 1-Page Marketing Plan may be simple, but it's a message that is spot on. It's one every small business owner needs to take to heart.