2020 marked my eighth year of blogging. Through the end of last year, I've published 511 posts for an average of ~65 posts/year, which I'm happy with.
As I like to do at the start of each year, here's a look back on the year that was and a look forward to goals for 2021. In the meantime, here are the links to past editions of the annual review:
Let's dig in with a look at traffic.
Blog traffic
Two significant milestones were passed during 2020:
Total sessions broke the 200K mark and finished the year at nearly 205,000.
Total pageviews broke the 250K mark and finished the year at 264,000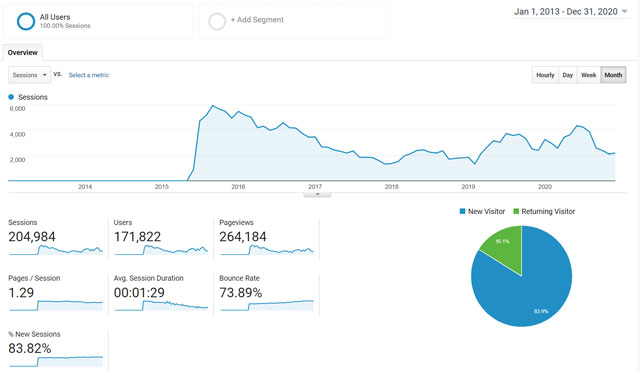 The traffic has a few peaks and valleys in it over the last couple of years, but it's been generally consistent from 2019 to 2020. One interesting trend I've noticed is that the pages/session, average session duration, and bounce rates continue to get progressively worse through the years. My hypothesis is that most visitors enter the site through a Google search, view that page, and then return to their search results. Just like I don't stress over my traffic numbers, I don't stress over the engagement numbers either. I simply find the trends in these statistics interesting.
Taking a closer look at 2020 shows a similar traffic pattern to 2019 with a peak in traffic during the summer months. The peak in 2020 was larger than 2019 resulting in 15% more traffic this year when compared to last.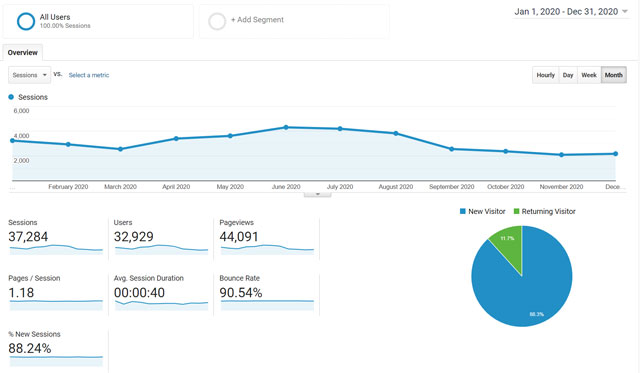 The traffic lessons I mentioned last year haven't changed. They are:
Original content matters
Depth (i.e. quantity) of content matters
The long tail (of search) generates most of the traffic
Again, I'm not focused on driving traffic. It's not one of the reasons I blog, so I don't plan to make any changes based on the numbers. It's just interesting to see the statistics over time.
Blog posts
My annual goal is 100 posts. 2019 was the closest I came to hitting my goal when I published 93. I did slightly better in 2020 but still came up short of my goal. I published 96 posts for the year.
Blog posts: 2013-2020
| | |
| --- | --- |
| 2013 | 71 |
| 2014 | 73 |
| 2015 | 59 |
| 2016 | 57 |
| 2017 | 36 |
| 2018 | 24 |
| 2019 | 93 |
| 2020 | 96 |
The year started strong. I had 50 posted published by end of May. Unfortunately, I couldn't keep up the pace but did manage to post consistently the rest of the year.
2020 by month
| | |
| --- | --- |
| January | 16 |
| February | 6 |
| March | 14 |
| April | 8 |
| May | 6 |
| June | 8 |
| July | 5 |
| August | 6 |
| September | 5 |
| October | 7 |
| November | 7 |
| December | 8 |
Popular posts
One of my favorite parts of reflecting on the past year is seeing which posts got the most traffic. I break it into 3 categories – posts published in 2020, most viewed posts during 2020, and most viewed since inception.
Most viewed – published in 2020
Most viewed posts during 2020
Most viewed posts since starting blog
2020 goal results
I had two goals for this past year:
Write 100 posts
Catch up on book reviews
Well, I managed 96 posts, so I nearly completed #1. I caught up on the book reviews by March and have stayed current since. So #2 was done.
2021 goals
For this upcoming year, I have one simple goal – post 100 times. It will be a challenge, as it is every year. Maybe this will be the year that I finally break through.
---
And that puts a wrap on 2020 for the blog. We'll see what 2021 has in store. Who knows, I may choose to start a new category, like I did last year with the Test Kitchen. Or I might get back into Startup Lessons, or just keep writing random observations and rants.
In any case, I treat this as my personal space. It's a fun side project, and one that I'm looking to continue into my 9th year in the blogosphere.