2019 marked the 7th year that I've maintained a blog. Since the overwhelming majority of blogs don't make it past the 6-month mark, I'm happy that I've been able to stick with it for this long, and I plan to continue.
As I've done each year, here's the review of the blog's performance in 2019 and my blogging goals for 2020. It's a fun state of the union exercise to look back and see how things have went, traffic levels, popular posts, and more.
If you're interested in past year's performance, click on the year to see the review for that time and the forward looking goals:
Blog traffic
Since inception, I've eclipsed 180,000 sessions and nearly 240,000 page views. Traffic from 2017 to 2018 was flat, and 2019 saw a bit of an increase. I don't live or die by the traffic numbers, but it's interesting to see the trends.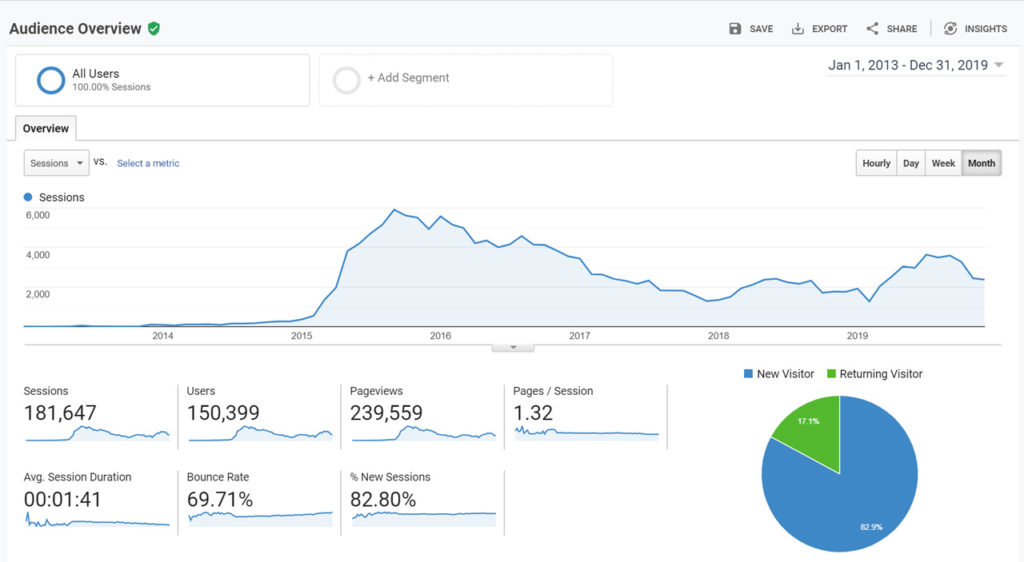 Traffic for 2019 peaked in the late summer months, and then pulled back as the year closed out. As you'll see below, my traffic is dominated by 2 posts. One is a post from 2015 about installing DD-WRT on a TP-LINK router, which is still getting a surprising amount of traffic four years later. The second post is one regarding fasting which I published at the beginning of 2019. It accounted for most of the traffic gain in those late summer months you see in the image.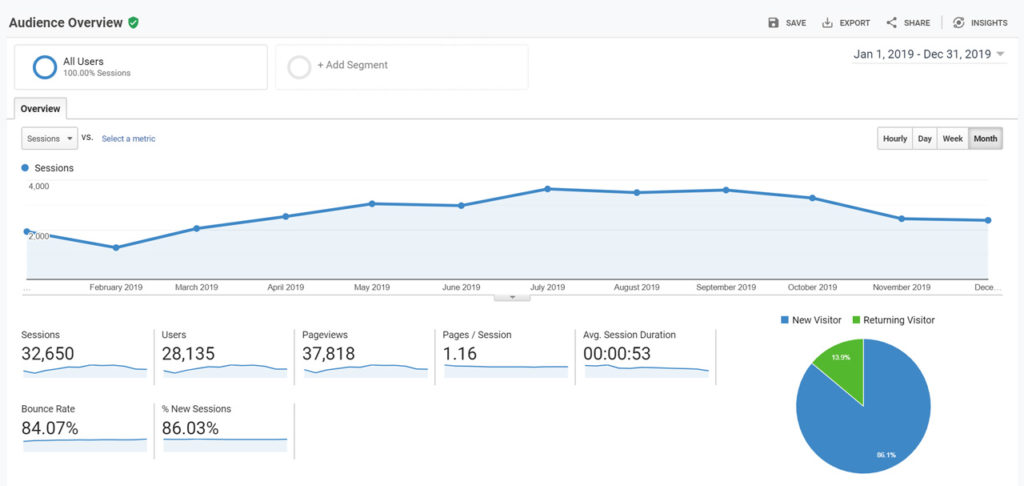 Through 7 years of blogging, I've learned a few things when it comes to generating traffic:
Original content matters
Reposting and rehashing other people's content does not drive a lot of traffic. People gravitate towards original content and insights.
A depth of content is required
You need more than a few pages if you want to generate significant amounts of traffic. I've generated over 400 posts since starting. In 2019, nearly all of the posts generated at least a couple of views during the year.
The long tail is important
People search for obscure things on the internet. I get a lot of 'one-and-done' traffic where people were looking for a specific item. When looking at the search logs, people have typed long, detailed search queries into Google to find articles that are about exactly where they are interested in.
I could add a fourth item regarding topic focus, which is one I don't do well. I use my blog to publish what I want, when I want. Content varies from general rants to book reviews to technology how-tos. If I were to focus on one area, I'm guessing that the sum of the parts would be greater than the whole. Maybe I'll experiment with this later, but I'm not going to worry about it for now since this is my fun project.
Blog posts
I have a goal every year to get to 100 posts for the year. Prior to 2019, the closest I'd come is 73, which I did in 2014. Last year, I did a personal best of 93 posts. Most of these were catching up on book reviews, but who cares. It was a vast improvement from the 24 posts in 2018.
The year started slow, but picked up over the last four months. How much did it pick up? I posted 38 times through August, and 55 times September – December.
Blog posts: 2013-2019
| | |
| --- | --- |
| 2013 | 71 |
| 2014 | 73 |
| 2015 | 59 |
| 2016 | 57 |
| 2017 | 36 |
| 2018 | 24 |
| 2019 | 93 |
2019 by month
| | |
| --- | --- |
| January | 10 |
| February | 3 |
| March | 3 |
| April | 7 |
| May | 4 |
| June | 4 |
| July | 3 |
| August | 4 |
| September | 10 |
| October | 17 |
| November | 15 |
| December | 13 |
Popular posts
One of my favorite things to look back on for the year is to see the posts that were viewed the most. It's fun to look at three categories – the most viewed posts published in the current year, the most viewed posts during the current year, and the most viewed posts since inception.
Most view posts – published in 2019
Most viewed posts in 2019
Most views posts since starting blog
2019 goal results
For 2019, I dumbed down the blog goals to two:
100 posts
Catch up on book reviews
I didn't make 100 posts, but I came as close as ever with 93. I'll be carrying this goal forward. I'm in a pretty good rhythm, so hopefully I can break through in 2020.
I almost caught up on book reviews. I don't know how far behind I was entering 2019, but I know it was a lot. It could have been close to 25. I'm currently 7 behind, so I caught up a lot during the last four months of the year. I will eliminate the backlog in 2020.
2020 goals
For 2020, I'm going to keep it simple again. I don't want a lot of goals. I'd prefer that blogging doesn't turn into a burden. I'm going to keep things fun.
100 posts
I'm hoping 2020 will be the year
Catch up on book reviews
The backlog is 7 – no reason I shouldn't be able to clear it.
---
And that's a wrap for 2019. Quite honestly, so long as I continue to maintain the blog for 2020 I'll be happy. If I can achieve both the above goals along with it, well that will just be a bonus. It will be like icing on the cake.
If I do get caught up, maybe next year I'll set some more ambitious goals. I have a lot of topics on my blog list, especially around startups and technology. Perhaps in 2021 I'll finally get around to starting a more dedicated topic list for the blog. We shall see.