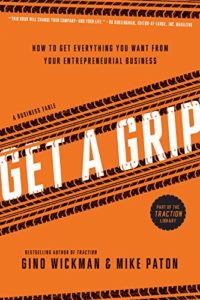 Most business books tend to be dry and boring. An author introduces a framework or set of concepts. These are explored in detail. Theoretical examples of how to apply them are given. Every once in a while, I'll come across a business book in this format that is well written and reads easily. For the most part though, these books are a slog and take me a long time to read.
The business books I like are those that weave the framework or concepts into a story. They are easier to read and entertain at the same time. While I may not be able to apply or use the concepts presented, more often than not, I read through this style of business book faster. It feels a lot less like work and is way more enjoyable.
My latest business read, Get A Grip: An Entrepreneurial Fable by Gino Wickman and Mike Paton, uses the story-telling style to introduce their Entrepreneurial Operating System framework, or EOS for short.
The story in Get A Grip centers around a small consulting company that has hit a plateau. Business growth has stagnated. The founders are stressed, unhappy, and not getting along. The team is under-performing. In search of an answer, Eileen, who is one of the co-founders, is referred to a consultant named Alan. Alan helped her friend turn around his business. Her friend is convinced that Alan can help Eileen turn hers around, too. As you would expect, Eileen meets with Alan and agrees to bring him in. The rest of the book shows how Alan helps Eileen and her leadership team implement his EOS framework to set a direction for the business and get things back on the right track.
I liked Get A Grip. It's a good business book. The concepts apply most to a startup that is in growth mode with a team of at least 10-15 people. However, parts of the EOS framework are applicable to smaller companies, even my current solo company structure . I found the business planning tools most relevant, and the organizational tools will be useful as my business grows.
I'm not going to put Get A Grip into my Must Read or Fun Read categories, but I would highly recommend it to anyone on the leadership team of an early or growth stage startup. There's a lot of great concepts that you'll be able to apply to your business. It's a book that I plan to put in my toolkit and come back to as my business grows and experiences changes.