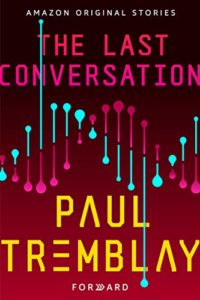 In somewhat of a coincidence, the last story left for me to read in Amazon's Forward Series was The Last Conversation by Paul Tremblay. I didn't plan it that way. It just kind of happened.
Reading a short story is different than reading a long form novel. The author has a limited amount of pages to develop characters and explore a topic. It means there are usually fewer characters, the pace of the plot tends to be faster, and the author leaves it up to you the reader to fill in more of the details. In a well written short story, the ending is typically a stunning plot twist or reveal – the more unexpected the twist, the better. It's not unusual for the ending to be abrupt, lacking closure. One gets to use their imagination to create their own ending, or to debate possible endings with others who have read the book.
Some are put off by this format, but I like it, a lot.
The Last Conversation hit all of the key short story elements for me. Limited characters, check. Fast plot pace, check. Missing details left for me to fill in, check. Plot twist, check, although it wasn't quite as stunning as I would like. Even though I could see the ending coming, it still left me pondering and replaying the story over in my head. It lingered with me for a good hour after I read it, and I was still coming back to it the next day. That is the mark of a good, well-written short story, in my opinion.
Now that I've read all of the books in the Amazon Forward Series, I can safely say that I thoroughly enjoyed it. Four of the stories were excellent. While the remaining two were underwhelming, the beauty is that they're short stories. None of them take longer than an hour to read, so it's not like you're wasting a ton of time if you don't enjoy it.
So how would I rate the books? Here goes:
The Last Conversation by Paul Tremblay
The ranking was easy to do, except for Emergency Skin and The Last Conversation. I really enjoyed both of these books and could easily switch their positions. In fact, I should rate them '2a' and '2b' since, in my mind, they are tied.
Otherwise, Summer Frost was the best for me, Ark is worth reading, and I would recommend leaving Randomize and You Have Arrived at Your Destination for last. I didn't enjoy them as much as the others, but you may find it differently. Since they're short stories, it won't hurt to read them and form your own opinion.
I'm glad Amazon put together this series and hope they will do another series in the future.