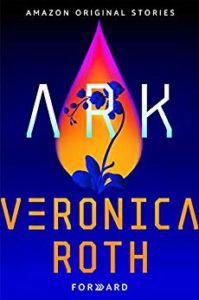 I'm a fan of the short story format. It's impressive when an author tells a captivating story with well-developed characters in a condensed number of pages. I've also found it a great way to explore new authors to get a feel for their writing style.
So in the breaks between books on my reading list, I've been working through the short stories in the Amazon Forward series. I've read four of the six stories, and recently finished the 5th – Ark by Veronica Roth. If the author sounds familiar, she wrote the Divergent series of books that was made into a series of movies starting back in 2014.
In Ark, Roth explores an end of the world scenario in which a massive asteroid is on a collision course with Earth. Since the asteroid is expected to cause cataclysmic damage, humans are evacuated from Earth to the nearest habitable planet. A small group of scientists stays behind to catalog as many possible plant species before they are evacuated. The story focuses on one of the scientists, Samantha, and the decisions she must make in the final days before her group is schedule to leave.
Ark isn't a thrill-a-minute, action-packed story. It is focused on characters, exploring their backgrounds and motivations. It sounds like that would make for a slow moving story, but I found just the opposite. I was engaged from start to finish.
I'll admit that I wasn't sure what to think when I finished Ark. At first, I didn't like it. As you might expect in a short story, the ending is a cliff-hanger. She leaves it up to the reader to fill in the gaps. However, the more I thought about it, the more I saw the genius in Roth's writing. The ending grew on me, and I really warmed up to the book. While it's not my favorite in the Forward Series, I would still highly recommend it. I've added it to my Fun Reads category. It's a great story that you can sit down one evening and consume in under an hour.
After five stories, here's my ranking of the works in the Forward Collection
Ark by Veronica Roth
I'm enjoying Amazon's Forward series and looking forward to the last story in the collection, The Last Conversation . And while all of the books have been good thus far, I've particularly enjoyed the top three in my rankings above.