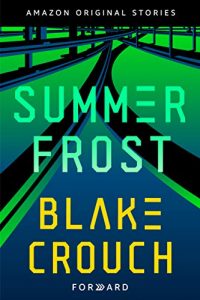 I have a love-hate relationship with the Amazon recommendation engine. There are times when I get email recommendations that leave me scratching my head, saying "What the…?" And then there are other times when I feel like it knows me better than I do.
For example, I love the short story genre and feel it is underrepresented in books these days. It feels like so many authors and publishers are focused on prolonged series. Now it could be my ADHD speaking, but there's something to be said for a captivating short story. So when I got an email from Amazon saying they created a new short story series focused on science fiction by the genre's up and coming authors, called Forward, I was intrigued.
Favorite genre? Check.
Favorite authors? Check.
Short stories? Check.
Available to Prime members for free (via borrowing)? Double check.
Count me in. Since Blake Crouch has become one of my favorite authors as of late, I decided I would start with his contribution to the series, Summer Frost.
Summer Frost takes place in a near-future San Francisco. It blends video gaming, artificial intelligence, nano-technologies, and other tech that is under development and being heavily invested in. In Crouch's classic style, he wastes no time getting to the action. The technologies in the book are believable and real. I didn't have to suspend any belief to see how the future he portrays could exist. In fact, a lot of it may come to fruition sooner then he portends.
The plot explores a software developer's interaction with an emerging self-aware artificial intelligence that they are responsible for. As you would expect, the AI starts out rudimentary and expands in a series of natural progressions, eventually taking on a human-like form. At that point, the story has an Ex Machina feel to it, but in a good way. Because the story is in written, short story form, Crouch is able to explore the characters deeper, but just deep enough that I was left to form my own views of the characters. In my opinion, it's just the right mix.
So far, I've read Crouch's Wayward Pines trilogy and Dark Matter. I highly recommend both. They are Must Reads, and so is Summer Frost. What makes Summer Frost even better is that it is easily consumed in one sitting. In fact, I'll challenge you to put it down once you start it. It will keep you engaged start-to-finish. It will also stick with you and leave you questioning the future path of artificial intelligence. Whether it's in a good way or bad way is what makes the book so special. The reader is left to form their own opinion. Will AI protect us and shape our lives for the better, or will it be, as some contend, our final invention?