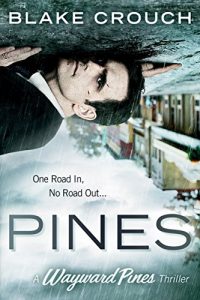 Even though I have a reading list that has grown to out of control proportions of 150+ books strong, I'm always on the lookout for book recommendation sources. I have a few friends and blogs that have become trusted sources. There's my ever present nemesis – the infamous Amazon recommendation engine. For my latest read, I decided to try a new recommendation source –  Gizmodo, one of the tech blogs that I follow. One of their must reads from a while back was Pines from the Wayward Pines trilogy by Blake Crouch. Since I follow the site primarily for tech gadget news, I was a little concerned about the potential quality of their book recommendations, but I figured it was worth at least a shot.
For starters, the book had one strike against it going in. It was the first in a trilogy. I'm not sure the fascination, but so many authors break their stories up into a three-book series these days. Since I have a crowded reading list, I hesitate committing to three books. I like the idea of reading a book from an author, and then jumping to the next one. On the other hand, I figured that I could always walk away if the first book didn't blow me away. It's not like it would be the first time that has ever happened.
The story starts with special agent Ethan Burke waking up in a roadside ditch. Not only does he not know where he is, he isn't even sure of his own name. He sets out on a mission to discover his identity and his location, and the story gets progressively stranger from there. The story gets even more mysterious when Crouch starts weaving in references to Burke's family and his past. It can be a bit hard to follow, and my first inclination was to question where Crouch was going with all of it.
Then, he does the reveal, and I was both shocked and hooked. Suddenly, disparate threads of the story had been brilliantly linked together. Previous pieces that seemed to lack coherence fell perfectly into place. Before I knew it, I had reached the end of Pines and was waiting for the month to turn over so I could pick up book 2 via the Kindle Prime Lending Library. It was an agonizing 5-day wait.
Unlike some trilogies, where the second book can't match the first, Wayward just builds the story further. Needless to say, I devoured it, and then moved onto the The Last Town. While The Last Town was a little more graphic than the first two, it was a great and fitting end to the series. While some people panned the ending, I thought it fit perfectly.
I walked away from the series impressed. In The Wayward Pines Trilogy, Crouch is a master storyteller. His ability to weave a grand yarn matched that of my other favorite authors, such as Hugh Howey and WIlliam Hertling. Despite being a three book series, I would highly recommend it and have added it to my Must Read list of books.
So for now, I've picked up yet another book recommendation source, and another author that I want to read more of. If all of Gizmodo's recommendations are this good, my reading list is about to grow. And if Crouch's other works are as good as the Wayward Pines trilogy, it's going to grow even more.
By the way, if you weren't aware, the book series was turned into a Fox television series. I've heard good things about the first series, even though I haven't watched it (and don't plan to). It seems like they stayed mostly true to the book, but not completely. Personally, I'd recommend the book before watching the series. Crouch's ability to tell a story will captivate and entertain you. I just don't think the small screen can do justice to the way Crouch weaves his story, uses flashbacks, and connects you to the characters. Either way, I've included the trailer for season 1 below. They certainly assembled a strong cast for the show.
https://youtu.be/RsQ9Fl0VCkk