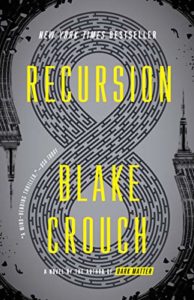 If you've spent anytime on my blog, you know that I am a fan of Blake Crouch. Wayward Pines, Dark Matter, Summer Frost, Abandon. I've liked them all. He is one of my favorite science fiction writers of this generation.
His latest work, Recursion, has been on my reading list since it came out last year. I was determined to get it to this year, but it was a ways down the list. When my oldest daughter told me she finished reading it, I decided it was time to move it up in the queue. And when my middle daughter said she wanted to read it too, well, that sealed it. I moved Recursion to the top of the heap.
I've read enough books over the last 5-10 years that I've found a style of writing that I like. I prefer those books that are immersive, where you feel as though you are part of the story. I also prefer books that start quickly and engage you immediately. Crouch's books do both, and they do it well. He drops you right into the action and develops an immersive environment and engaging characters around the story. It makes it easy for me to read a book of his. When I open up one of his novels, I am usually finished with it within a few days, at most a week. Recursion was no exception. While it starts a touch slower than the other books I've read of his, it doesn't take that much longer to get into the action. And when the action starts, it is non-stop. It was difficult to put down.
If you've read Dark Matter, then you'll find a lot of similarities between the two books. Each book explores the concept of space and time but presents different methods of how we might traverse them in the future. The concepts in both books blew my mind and seriously tickled my imagination.
I'd love to do a plot synopsis of Recursion, but doing so would give away too much of the book. Recursion is best explored without any plot spoilers. In his usual manner, Crouch keeps you on your toes. Just when you think you have everything figured out, he throws in a plot twist to keep you guessing. Even more amazing is how Crouch holds everything together. If you were to lay out the entire book, the plot is extremely complex. He somehow manages to tie everything together, and keep it together. I'm sure there's a hole or two somewhere in the story, but I wasn't able to find it. So if there is a hole, it's not a glaring one.
As you would expect given my affinity for Crouch's work, Recursion is a Must Read. I would even recommend that you move it to the top of your reading list. It will engage you, it will entertain you, it will leave you intrigued for days after you read it. I don't know what Crouch has planned next, but I'm already looking forward to it.