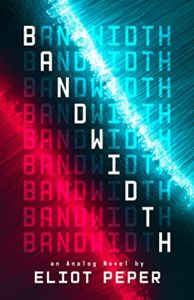 I enjoy discovering authors, especially those who are somewhat new and under the radar. It provides a great source of new books for my reading list that I can generally trust. Every year, I like to have a book by these authors on my list.
I don't have a long list of these authors. Names that come to mind are Hugh Howey, William Hertling, A.G. Riddle, Blake Crouch, and Daniel Suarez. There are also classic authors like William Gibson, Isaac Asimov, and Philip K. Dick.
I expect that I will soon be adding Eliot Peper to the list.
I first discovered his work in 2015 with the Uncommon Stock trilogy. I liked that trilogy, so I read his follow-up Cumulus, which was also quite good. When Bandwidth was made available for free through Amazon Prime's First Reads for April 2018, it was an easy decision to grab a copy. It took me a while, but I finally got around to reading it at the end of last year.
If you've read any of Peper's books, you will enjoy Bandwidth. If you haven't, then you're in for a treat. Bandwidth is a classic Peper novel. He takes a current technology topic or near-term, probable technology direction and uses it as the centerpiece for his story. In the case of Bandwidth, it revolves around "The Feed", a supposed locked down, secure personalized Facebook style feed that everyone uses. As you might expect, the primary character's feed is hacked, which leads to a suspenseful, action-packed ride.
As with his other stories, the technology is plausible and real. It's not far-fetched things that stretch your imagination to its limits. His stories are based on what you would expect the natural progression of technology to be. He uses this as a means to build his story, and then develops the plot and action around it.
Bandwidth is a fast, fun read in classic Eliot Peper style. It's a page turner that didn't take me long to consume. I suspect that you will find it the same. And while I'd like to continue on with the rest of the Analog series, I'm going to look to add some of his other works to my future reading lists first. Trilogies aren't really my thing, and I like the diversity of different stories.