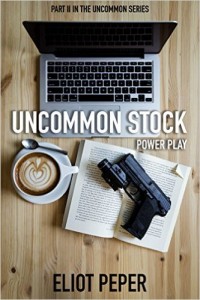 I've grown tired of the trilogy. I really have. I wish authors would write one book that is a complete story, or just publish the three books as one tome. I'm not a fan of drawing a story out into three books, and I don't get the rationale behind it. Then again, I'm not an author, so what do I know?
There are exceptions, however, and the Uncommon Stock series by Eliot Peper is one of them. After reading Uncommon Stock 1.0, the book was good enough that I decided to venture into Uncommon Stock: Power Play, which then drew me into Uncommon Stock: Exit Strategy.
Power Play picks up the story of Mara Winkel and her best friend James' startup Mozaik. The company is busy building out their initial financial fraud detection product for their first customer demonstration. Building out the product, however, is only one piece of the big picture. Mara is also trying to find out the truth about who her investors really are and who was responsible for the foul play and murders that is surrounding her company. Someone is hiding something, and Mara and her team are determined to find out who it is, all while trying to impress their first client.
Power Play meanders around quite a bit and was a bit hard for me to follow as it had been a few months since I read the first story. It took me about halfway through the book to get my bearings again and remember all of the characters and the initial story arc. Luckily, I got caught up just in time as the pace of the book picks up considerably over the last third, brings enough closure to the story, and leaves enough questions unanswered that it made me want to dive right into Exit Strategy.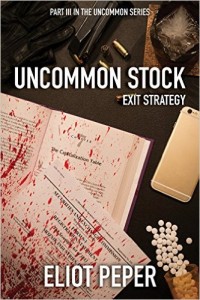 There is another gratuitous time gap between Power Play and Exit Strategy which is well done. At this point, the company's software is a hit, and it's time to accelerate the startup's growth. In addition to the dynamics around growing a company, Mara is still working towards getting to the real truth of her investor team, Lars in particular. While Power Play was a slow read, Exit Strategy moved quickly from beginning to end. I found it easy to read. It kept my attention, entertained me, and I mowed through over the course of 3-4 days, which is fast for me.
Needless to say, I thoroughly enjoyed the Uncommon Stock series. If I were to do it over again, I would have waited to read the first book so I could have read all three back-to-back. To me, it's one of the downsides of the trilogy. Because the books are separated, I tend to insert other books between the installments, especially if I have to wait for the author to complete one or more of the books. Bottom line, don't do what I did. You'll enjoy the series even more if you just read it from start to finish.
I've added the Uncommon Stock series to my Must Read category of books. It has the right mix of believable technology, plot twists, and strong writing to keep you entertained for hours. I'm looking forward to Peper's next work, Cumulus, which I hear is coming out soon. Since it isn't out yet, I'm not planning to add it into my 2016 reading list, but there's a good chance it could jump the queue once it's available.