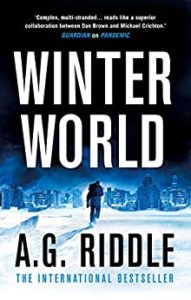 When I construct my reading list for the year, I keep an eye out for new books by my favorite authors, or ones from their catalog that I might not have read yet. Current favorites include Blake Crouch, Eliot Peper, A.G. Riddle, Hugh Howey, William Hertling, Robin Sloan, and Andy Weir.
So last year, when I saw that A.G. Riddle came out with a new trilogy named The Long Winter, I knew it would be both on and near the top of my reading list for this year. I recently finished the first book in the series, Winter World.
I'm going to start this review by restating that I am a fan of A.G. Riddle's books. I enjoy his writing style and like the topics that he writes about, which are heavily science-fiction based. In other words, there may be a touch of bias in this review.
If you have enjoyed Riddle's other works, then you will like Winter World. It is a classic Riddle novel where he sets up the action quickly, draws you into the story, and keeps you guessing as to what is coming next.
In this book, Earth is undergoing significant cooling, to the point where only the warmest places remain habitable. Governments and scientists are in a race to figure out why before humanity is wiped from the face of the planet. A small contingent is sent into space to locate the cause of the cooling, and what they find puts the surviving population in a race against time to seek out and destroy the cause before it's too late.
As with his other novels, Riddle writes primarily in the first person and does so from multiple perspectives. Each chapter ping-pongs between the two main characters, and Riddle does a great job of holding the story together while providing two perspectives on the action. The book has a clean finish and provides a good setup for the second book in the series. I enjoyed Winter World and plan to pick up the second story, The Solar War.
I've added Winter World to my list of Fun Reads. It's entertaining, well written, engaging, and maintains a good pace. There is a lot of space travel involved in the story, and Riddle does a good job of making it believable and realistic based on today's technology. With that said, I would have preferred a bit more near-term, hard science fiction, which might have pushed the book into my Must Read category.
In any case, Winter World is a must for Riddle fans. He did a great job with the writing and the story. If your new to his work, it will still be enjoyable although I might suggest starting with The Origin Mystery. It will give you better feel for Riddle's style, and it may make Winter World a touch more approachable and enjoyable.