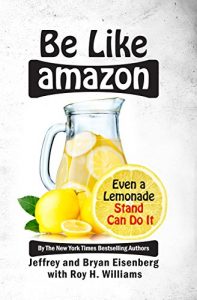 My go-to resource for web analytics is Avinash Kaushik. Guru does not adequately describe his level of expertise on the topic. If you have any interest in analytics, his blog is a great resource that is chock full of information. The articles are deep dives into the concepts, techniques, and tools that allow you to get the most out of your online presence. For bite-sized pieces of insight, I'd recommend subscribing to his newsletter, which you can do from his website.
So what does Avinash Kaushik have to do with the book Be Like Amazon: Even a Lemonade Stand Can Do It? In June of last year, Avinash mentioned the book in one of his newsletters. I have such high regard for his opinions and insights, that I immediately added the book to the top of my reading list.
I wasn't disappointed.