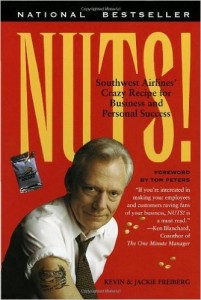 I'll admit that I've been a long-time admirer of Southwest's business model. As I've written in the past, they are a model of operational efficiency. I've always experienced top notch customer service, both on the ground and in the air, when I've flown with them. Their fares are always competitive, and often the lowest on the routes they fly. I've been impressed with Southwest as both an observer of their operations and as a passenger on their planes.
I got my first exposure to them through a case study I read in the mid-nineties while in business school at UCLA. The case study exposed and dissected their operational efficiencies. Shortly thereafter, as I began traveling regularly for business, I got to experience the flight experience first hand. I would watch with interest how quickly they would turn planes when they landed. I would notice how the little things they did allowed them to best the competition – things such as open seating, flying 737's exclusively, handling their own reservations, and flying to the smaller airports in a city. I've always been interested in learning more about how the company was run.
A couple of years back while reading The Startup Playbook, one of the interviews in the book mentioned Nuts by Kevin and Jackie Freiberg. It was presented as a way to learn how Southwest has used culture to build a great company and to deliver outstanding service. Given my desire to learn more about Southwest's business practices. I added it to my reading list. It took some time, but it finally reached the top.