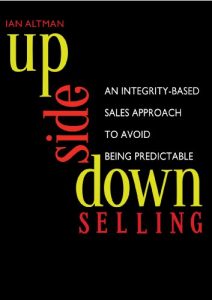 I got a lot out of the book Same Side Selling by Jack Quarles and Ian Altman. It was one of my Must Reads in 2015 and one of my top business books to read for 2016. What I liked most about their approach was that, unlike most sales books, they don't focus on driving the client to 'yes'. They encourage you to examine your business model's strengths and weaknesses, understand what customer problem(s) your solution or product solves, and identify your target clients. As I wrote back in July 2015, they don't teach closing techniques:
Instead, they take a long-term view to the sales process and drive the delivery of value to the customer as the basis for a long-term relationship.
In other words, they propose an approach where the seller offers value by working together with the buyer to build a solution, or offer a product, that solves a buyer's specific problem.
Given how much I liked the book, I decided to grab a copy of Altman's Upside Down Selling.
It's hard to tell which of the two books came first. It looks as though they were being written at the same time. Upside Down Selling was published in January 2014, and Same Side Selling was published in March 2014. Based on the content it's not a surprise. Upside Down Selling is more or less a summary, or Cliffs Notes version of the ideas presented in Same Side Selling.
That's not to say that Upside Down Selling isn't good. If you haven't read Same Side Selling and want to get a quick overview of Altman's concepts, then you'll want to get yourself a copy. At approximately 50 pages, it's a quick read. You'll walk away with a lot of practical ideas that you can implement in your business right away. If you like what you read there, then you can pick-up Same Side Selling and do for a deeper dive. Personally, I'd recommend jumping straight into Same Side Selling and then using Upside Down Selling as a reference book anytime you want to refresh your memory of the concepts or tune up your sales processes.
Even though I'm not going to put Upside Down Selling on my Must Read list, I'm still a huge fan of Ian Altman's ideas and concepts. It embodies my philosophy of sales. It's not about learning techniques that get the customer to sign on the dotted line. Sales is about delivering a service or product of value to your customers. When you deliver value, you don't need fancy closing techniques to secure business. You just need a good marketing strategy to get the word out about the value you offer to your target client base. And as you would expect, Altman offers up concepts and ideas to help there, too.
If you're not convinced, pick up Upside Down Selling to get a taste of his work. You won't regret it, especially if you're starting up a business, building a business, or making a living in sales.