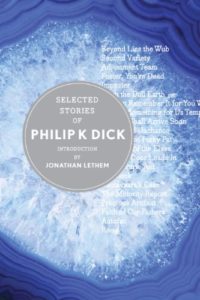 Two of my primary reading genres are classic science fiction and short stories. Therefore, I should not have been surprised when my nemesis, the Amazon recommendation engine, suggested I read Selected Stories of Philip K. Dick. And of course, being the compliant subject of our artificially intelligent overlords, I complied and added it to my reading list.
When it comes to science fiction authors whose works have stood the test of time, Philip K. Dick has to be in the discussion. The number of books and short stories that he wrote which foreshadowed future technology is bordering on scary. Perhaps more amazing is that most of his books were written in the fifties, sixties and seventies, and many of them are more relevant today than they were back then. It's like he had a looking glass into the future, which makes reading his works both fascinating and a necessity for those who work in technology fields. As I've written before, it's why I read science fiction. When well written, it's a window into the future.
Selected Stories is a wide-ranging collection of PKD's short stories. There are some real gems in the collection, particularly those that were made into full-length feature films. These include Paycheck, The Minority Report, and We Can Remember It For You Wholesale, which is the basis for Total Recall. There's also Autofac and Foster You're Dead, which were two of the shorts featured in Amazon's Electric Dreams series.
I wouldn't consider Selected Stories a Must Read, unless you're a science fiction and short story junkie like me. Otherwise, Selected Stories is a collection of fun, entertaining reads that you can pick through at your leisure. It's probably one of the better ways to enjoy this collection. I wouldn't necessarily suggest reading it beginning to end. Instead, it's a good book to carry around on your phone or keep on your desk. Anytime you have 30 minutes or so, you can exercise your imagination and immerse yourself in the interesting stories that only Philip K. Dick can tell so well.