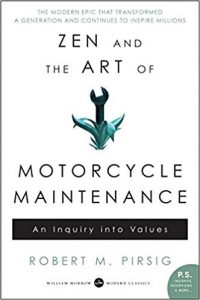 There are times that I resist reading a book simply because of its title. If the title looks like it covers a subject that I'm not interested in, why should I read it?
Case in point is Zen and the Art of Motorcycle Maintenance by Robert M. Pirsig. I had heard people talk about it, and I'd had people recommend it to me. Since I don't ride motorcycles and have no interest in them, I kept wondering why people would think that I would want to read a book on motorcycle maintenance. To be honest, it didn't sound all that interesting.
After reading a post on Sean Murphy's blog, where he talks mostly about startups, I had a change of heart. Sean had pulled a few quotes from the book and related them to discerning the future and running a startup. It intrigued me because the quotes he pulled from the book didn't relate to repairing motorcycles. It felt like there was something bigger lurking behind that title that had frightened me away in the past. As it turns out, there was.