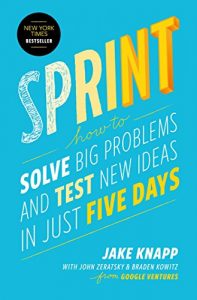 Running a technology business, I'm always on the lookout for ways to tweak or improve processes, particularly around new product development. As a smaller company, resources are valuable and precious. Chasing a new product that doesn't pan out can have dire consequences for the business. You want every advantage you can get screening product ideas and determining product-market fit.
We'd implemented agile methodologies in our development workflows, but these concepts have more of an impact on scheduling and getting product releases completed. They have minimal, if any impact on what product or features should be built. If what is getting put into the top of the development funnel isn't a viable product, it doesn't matter how fast or how good the product is that comes out the other side. You need to have a good methodology in place for building the right stuff.
For suggestions in this area, I turned to Sprint – How to Solve Big Problems and Test New Ideas in Just Five Days by Jake Knapp. I wanted to get ideas and gather insight into evaluating and fine-tuning new product ideas.
Continue reading