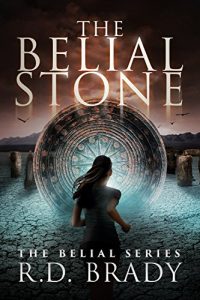 There were 25 books on my 2016 reading list. I was only able to get through 21 of them before the clock struck midnight on December 31st. The four remaining books were ones I had been very interested in reading, so I carried them over to 2017. The Belial Stone by R.D. Brady was one of those books. It was number 23 on my list from last year, and number 2 on my 2017 reading list.
I've been trying to document where I get my reading recommendations from so I can track the best sources. Unfortunately, I didn't have a source marked for The Belial Stone. According to Amazon, I purchased it back in May, 2015. Since I have a hard time remembering what I did this morning, my best guess is that I found it through an Amazon source of some kind. It was either through their Daily Deals, the Sci-fi newsletter, or my ultimate nemesis – the Amazon recommendation engine.
In any case, I was looking forward to The Belial Stone when it rose to the top of my reading list. It checked many boxes of the types of books I like to read. It fit into the science fiction genre and was by an author I hadn't read before. I really enjoy books that fit into the latter category. It's fun discovering new authors, especially those who could become sources of additional book recommendations.