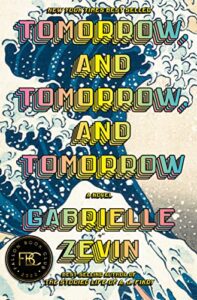 There are books on my reading list that have languished there for years. I've been trying to do a better job prioritizing these older books over the latest, shiny new object. However, there are times when a book looks to good to bury on my list. I don't do it as often as I used to, but I add those books and put them at or near the top of the list. Usually, the book is either highly recommended by friends, by an author I like, or getting really good reviews.
Such was the case with Tomorrow, and Tomorrow, and Tomorrow by Gabrielle Zevin. I kept seeing the book near the top of the charts on Goodreads, and it was continually appearing in my Amazon recommendations. Plus, it was a little outside the types of books I normally read, and I figured it would be worth stretching my boundaries a bit.
Tomorrow, and Tomorrow, and Tomorrow is a story of friendship and love that spans the past, present, and future. It makes you consider the enormous impact chance encounters and random events can have on the trajectory of our lives. While video gaming plays a prominent role in the book, it's not what the story is truly about. It's about the relationship of three close friends and the events that both bring them together and pull them apart over time.
I was not disappointed with the book. While it may not have lived up to the hype and publicity for me, I found it to be a captivating story with plenty of surpises and an ending that fits perfectly and completes the story's arc.
I've put the book into my Fun Read category. There were two elements that kept me from making it one of my Must Reads. The story is drawn out in a few places building the character's back stories, which slows the book's pace. More importantly, I found it hard to like or root for any of the main characters. Then again, maybe that's the point of the story and what draws people into it. The main characters aren't perfect. They have characters flaws that make them relatable, and they manage to succeed in spite of those flaws through determination and perseverance, and some lucky breaks along the way.
Overall, it's a good book – a strong, fun read that is worthy of its praise.