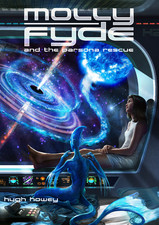 Ever since reading Wool, I've been a fan of author Hugh Howey. I've read quite a few of his works including Sand, Beacon 23, Hurricane, Half Way Home, and numerous short stories. They vary in terms of genre, though he has a tendency to lean more towards science fiction, which is how I discovered him. What I find distinctive about his writing is how immersive and engaging his stories are. He has a knack for building vivid environments in your mind, developing relatable characters, and telling a story.
Every year, I do my best to have a least one Hugh Howey book on my reading list. For 2019, that book was Molly Fyde and the Parsona Rescue.
Molly Fyde is a classic Hugh Howey story. It is set in the future and revolves around the adventures of a young woman's journey through space to recover her parents' former ship. She has to travel to multiple place and planets, and in each case, Howey paints an immersive, vivid, and detailed scene. He makes you feel as though you are right there, following Molly through the numerous sticky situations she has to overcome and escape from.
One thing I would like to highlight about the story is the way Howey describes space travel. He gets into the details, particularly how rigorous and hard it is on the human body. If I didn't know any better, I'd think he's already traveled to multiple planets. In other words, he makes something that is completely made up feel like reality. Again, it's one of the things that I love about his writing. It shows just how creative and imaginative Howey is.
Bottom line, I love Hugh Howey's writing. He is a story teller. He has a unique way of immersing you and your imagination in the stories and environments he creates. With that said, Molly Fyde is good, but it's not my favorite Howey book. This isn't at all a knock on his writing or the book. Molly Fyde and the Parsona Rescue is more space opera than space adventure, which isn't necessarily my thing, but it may be yours. Best of all, if you like Molly Fyde and the Parsona Rescue, there are three additional books in the series.
I'm putting Molly Fyde and the Parsona Rescue into my Fun Reads category. If you're new to Hugh Howey, I'd suggest starting with Wool, Sand, or Beacon 23. Those are my personal favorites, although you can't wrong if you start with this one.