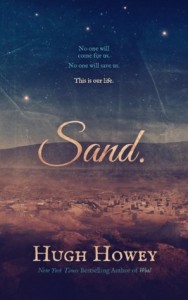 According to my standards, I've read quite a few books over the last three years. When I decided to increase my rate of reading, I relied a lot on the Amazon recommendation engine (which I pretend to hate) to fill my reading list. That worked well for the first year or so, but this year I decided to populate my reading list as much as possible with books recommended by trusted sources or written by authors I like. Since I really enjoyed the Silo series by Hugh Howey, I decided to add his next book titled Sand to the list.
I'd be lying if I didn't admit that I approached Sand with a bit of trepidation. The premise of a society mired in dirt and grit didn't seem like it would make for much of a story. However, since I liked Wool so much, I figured I should give it a shot. Hugh Howey didn't let me down.
Simply put, Hugh Howey is a story teller. I don't know how else to put it. He hooked me in the first chapter. I already felt immersed in the bleak, desolate, and gritty world that he created. Just as he did with the silos in Wool, Howey has an ability to immerse you in these fictional worlds and make them feel real. His descriptions are so vivid that you feel like you're there – the sounds, the smells, the sights, the texture and feel of the wind. It felt like I was part of the story. I also found myself quickly attached to the characters. It made for enjoyable reading as I was not able to put the book down. It normally takes me 1-2 weeks (or more) to make it through a book, but I was able to polish off Sand over the course of a weekend.
I'm putting Sand in my Must Read category. If you've read Wool and enjoyed it, then you should definitely read Sand. If you haven't read Wool, then you should definitely read Sand, and then read Wool, or vice-versa.
So even though I don't have any additional Hugh Howey works on my 2015 reading list, I wouldn't be surprised if another one sneaks it way onto the list later this year. Either way, I can assure you that at least one (or more) of his books will be on my 2016 reading list.
Here are the links to my reviews of Hugh Howey's Silo series:
Book review(s): Wool and Shift
Book review: Dust