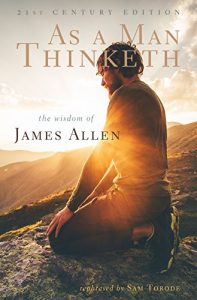 You would think that a self-help book written over 100 years ago, in 1903 to be exact, would not be applicable in the modern world. A person writing a book at that time would not have to deal with the distractions of mobile phones, email, social media, and incessant negativity in the media. How could their wisdom possibly help someone today?
As it turns out, some pieces of wisdom are timeless when it comes to personal development. The guidance James Allen provides in As a Man Thinketh is one such case in point. It was the first book I read in 2018, and it was a great way to kick off the year.
The treatise of the book is that our thoughts shape our lives. What we think determines who we are. As Allen puts it:
The vision that you hold in your mind, the ideal that you cherish in your heart – this you will build your life by, and this you will become
There is great depth and wisdom in that simple statement, and As a Man Thinketh is full of other gems. While I could go on and on, I'm going to keep this review short, just like the book.
The book is less than 50 pages and can be read in a matter of hours. But its length belies its importance, and it goes to show that you don't need to write hundreds of pages to get key thoughts across. In fact, that is the beauty of the book. It's short, to the point, and is extremely powerful. It is a reinforcement of what you'll read in books that are much, much longer.
As you might expect, As a Man Thinketh makes my Must Read list. I can't recommend it highly enough.
---
Editor's note: this review is for the 21st Century Edition rephrased by Sam Tolode. The original As a Man Thinketh is in the public domain, so you're likely to find many versions of it out in the wild. Be careful which version you pick up. You can pick up the version I read by clicking on the book image to be taken to the Amazon listing for the book.