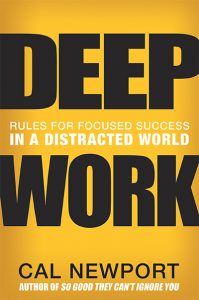 There is a long list of items that compete for our attention these days. There are the everyday responsibilities that emanate from our professional and personal lives. There are the abundant entertainment options available from television, movies, and sports. There is the online world which covers email, web surfing, and social media. Basically, there are lots of ways available for us to spend our time.
Conventional thinking says the most successful people are able to incorporate and manage all of these distractions into their daily lives. They achieve their level of success because they are able to multi-task, meaning switch quickly and efficiently between distractions, better than others. In other words, they don't spend a lot of time on any single task but are able to spend small amounts of time on many items throughout the day.
What if conventional wisdom is wrong? What if the most successful people are those who are able to filter out all of the distractions and instead focus on a singular, meaningful, important, complex task? Is it possible that multi-tasking is not a true indicator of success?
In Deep Work: Rules for Focused Success in a Distracted World, Cal Newport explores this very topic. He makes the case that the ability to focus is more important than the ability to multi-task. I was intrigued by his contrarian point of view and was interested in learning more.
Continue reading