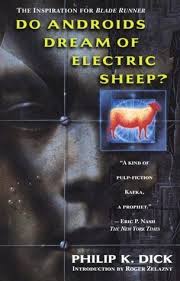 Yes, it is the year 2018. And yes, I recently read a sci-fi book that was published 50 years ago. And yes, I enjoyed it, a lot.
Philip K. Dick's Do Androids Dream of Electric Sheep is a classic. It's amazing to me how much of the book is relevant today. While PKD may have been a little off with how soon his fictional androids would become a reality, it's quite possibly a future that is not that far away.
If you're not already aware, Do Androids Dream of Electric Sheep was the basis of the original Blade Runner movie. I first saw the movie in the late eighties and really enjoyed it. It was many years later before I realized that it was based on PKD's book. I make a conscious effort to read classic science fiction, so I added it to my reading list. The book languished on my never ending reading list for a few years. When Blade Runner 2049, the sequel to the original movie, came out last year, I decided it was time to move the book up in my reading queue. I was determined to read the book before seeing the movie (which, by the way, I still haven't seen yet).