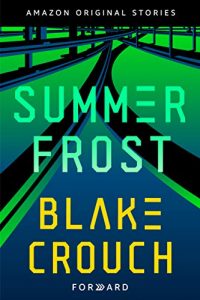 I have a love-hate relationship with the Amazon recommendation engine. There are times when I get email recommendations that leave me scratching my head, saying "What the…?" And then there are other times when I feel like it knows me better than I do.
For example, I love the short story genre and feel it is underrepresented in books these days. It feels like so many authors and publishers are focused on prolonged series. Now it could be my ADHD speaking, but there's something to be said for a captivating short story. So when I got an email from Amazon saying they created a new short story series focused on science fiction by the genre's up and coming authors, called Forward, I was intrigued.
Favorite genre? Check.
Favorite authors? Check.
Short stories? Check.
Available to Prime members for free (via borrowing)? Double check.
Count me in. Since Blake Crouch has become one of my favorite authors as of late, I decided I would start with his contribution to the series, Summer Frost.