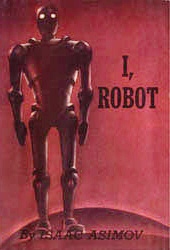 Now, look, let's start with the three fundamental Rules of Robotics – the three rules that are built most deeply into a robot's positronic brain.
One, a robot may not injure a human being, or, through inaction, allow a human being to come to harm.
Two, a robot must obey the orders given it by human beings except where such orders would conflict with the First Law.
Three, a robot must protect its own existence as long as such protection does not conflict with the First or Second Laws.
These are Isaac Asimov's easily recognizable and famous Three Laws of Robotics as laid out in his collection of short stories – I, Robot. For science fiction aficionados, these are easily identified and, most likely, committed to memory. Unfortunately for me, I just recently learned these laws. Sure, I'd heard them paraphrased many times and referenced in numerous books, but I never knew the true context in which they were used by Asimov. Now that I know the context, the rules are even more poignant and relevant in my mind.