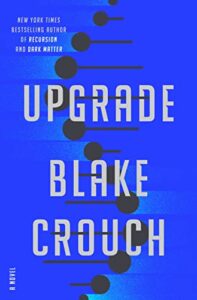 Growing up, I remember marking the calendar and patiently waiting for new movies to open in theaters. I remember waiting every fall for new seasons of my favorite television shows like Seinfeld and Cheers. Never in a million years did I think I would eagerly wait for the availability of a book. Yes, a book. Those things you read.
Well, it's happened. I've become one of "those people."
I've been a big fan of Blake Crouch's writing since reading the Wayward Pines trilogy. I've read Dark Matter, Recursion, and short stories he's written. I like his style, the pace of his books, and how he often weaves plausible technology and hard science fiction concepts into his stories.
So yes, I had the date circled on my calendar for the release of his latest novel, Upgrade.
Upgrade is a novel centered around the possibility of modifying one's genetic code to enhance one's capabilities. It examines the consequences and side effects, both on a personal and societal level, if one was to become effectively superhuman. For Crouch, it's the first novel he's written around the topic of genetic modification.
What I've liked about previous Crouch novels is how they start right into the action. He uses the action to build the story, to develop the characters, and to explain the technology concepts. Upgrade has some similarities but also some differences.
It jumps right into the action but then takes a breather as Crouch explains and develops the concepts around genetic modification technology. Unlike his other books, some explanation of the technology is necessary so the story makes sense later. While it takes a longer to reach the same pace as Crouch's other novels, it eventually gets there. When it does, it doesn't disappoint.
Is Upgrade my favorite Crouch novel? No. If you're new to Crouch, I'd recommend starting with Dark Matter, Wayward Pines, or his short story Summer Frost. These books will hook you and reveal the genius of his writing. If you're already a fan of his writing, then Upgrade is a no-brainer. It's definitely a book you'll want to put at the top of your reading list.
While Upgrade isn't my favorite Crouch novel, it's still an outstanding work of near-term, hard science fiction. It's one of the best books I've read in the genre this year and a definite addition to my list of Must Reads.
All in all, I continue to be impressed by Crouch's work and love that he ventured into the realm of genetic engineering with Upgrade. I'm already looking forward to circling the date on my calendar for his next release.