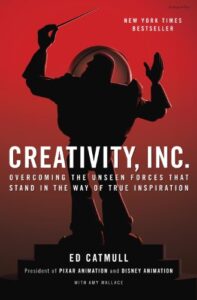 My final morning read for 2021 was Creativity, Inc. by Ed Catmull. In case you don't know who Ed Catmull is, which I didn't before reading the book, he was one of the co-founders and CEO of Pixar. Yes, that Pixar. The one that made movies such as the Toy Story franchise, A Bug's Life, Up, Cars, Monsters, Inc., and more.
There's an interesting story behind how I learned about the book, and it's one I'm going to share. Why? Because it's what I do. It's who I am.
It's January 2020. Lisa, Abbey, and I are taking a weekend trip to Carlsbad to visit my parents who were on vacation. As I like to do beforehand, I did some research on places to eat. Campfire was one of the places that came across highly rated by some local bloggers. We decided to eat there for Saturday morning brunch.
We got there before rush hour and were greeted warmly at the door. The host took us back to an expansive corner booth. As I like to do, I struck up a conversation with him. I'm sure Abbey was having one of those Dr. Rick from Progressive moments, "Dad, the server doesn't need to know your name."
As it turned out, I was talking with Matthew, the Director of Operations for Campfire and their more elegant sister restaurant down the street, jeune et jolie. He was very warm and welcoming. We had an interesting, in-depth discussion about a number of topics, including the challenges of running a restaurant. I mentioned how much I liked Setting the Table by Danny Meyer. Matthew also liked the book a lot, and he responded that I should read Creativity, Inc. Well, it took almost two years, but I finally got around it, which I'm sure Courtney can relate to.
So let's get back on topic. Creativity, Inc. is Catmull's recount of the founding of Pixar and the challenges of managing a creative team. While it's based around the film industry, Catmull's lessons can be applied to any creative business – restaurants, design, software, and more.
Catmull did a really good job with Creativity, Inc. He didn't do a victory lap where he pats himself on the back the entire time. I really dislike those types of business books. Instead, he shares an in the trenches recount of how hard it was to make Pixar a success, the multiple times it almost died, and the challenges of dealing with success after the successful acquisition by Disney.
Usually I shy away from business biographies. Most are too self-congratulatory and glorify starting a business by boiling it down to simple catch-phrases, which is a load of bull. Creativity, Inc. is NOT of this ilk. It ranks up there with other business favorites of mine like Setting the Table, High Output Management, and Shoe Dog. Best of all, it's a great book if you just want to learn more about Pixar itself and how it came to be. You don't need to be starting or running a business to enjoy it.
Creativity, Inc. is easily in my Must Read category. I would encourage you to put it at or near the top of your reading list for 2022.
Finally, I'd be remiss if I didn't give one last shout out to Matthew. Thanks for spending the time and sharing the recommendation. And also thanks for an amazing meal. I enjoyed it so much that I make it a point to return to Campfire any time I'm in the Carlsbad area, which I've already done a few times. Somehow, Matthew manages to remember me each time (after a few reminders). The moral of the story, if you're ever in the North San Diego County area, be sure to put Campfire and jeune et jolie on your list of restaurants to check out. I assure you that you will not be disappointed.