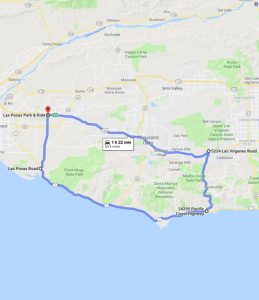 After covering the introductory drives outlined in the first post of the series, the new driver should be comfortable behind the wheel, and you should be comfortable riding in the passenger seat and giving instructions. If all is going well, then you are ready to head out onto the open road.
For my first extended drive, I like to introduce the teen driver to a little bit of everything. We'll drive on some straight, lightly traveled two lane roads; cover a busier road that requires varying speeds, changing lanes, and staying alert for odd situations; explore our first canyon; and spend time on the freeway.
You can see a list of all the drives (and articles) in this series by clicking here.
From my location in Ventura County, we start at a Park-n-Ride that is just off the 101 freeway at Las Posas Road. From there, we take a lightly traveled two lane road to Highway 1 (Pacific Coast Highway, better known as PCH). We'll drive down PCH to Pepperdine University and into Malibu Canyon. Then, we get back on the 101 and travel back to the Las Posas Park-n-Ride.
There are a few additional notes to keep in mind for this first drive:
I will normally do this drive on a Saturday or Sunday. PCH can a little crazy on weekend afternoons, so I like to go in the late morning. It means there will be some traffic and obstacles to contend with, but none that should overwhelm the learning driver (or the learning instructor).
I like to break the drive up a little over halfway through. This drive will take around 1.5 hours, so I'll stop between the 45 minute and 1 hour mark to take a break, review any odd situations that may have come up, and just spend quality time together. If you time things right, the stop should be right around lunch time. Expect the total drive time to take around 2.5 hours.
Malibu Canyon is a good place for a new driver's first canyon experience. The lanes are wide, and the turns are not too tight. It still requires the driver to learn how to set a car up for a turn at speed, feel the response of the car in the turn, and accelerate out of the apex of a turn to get back up to speed. I would avoid the more challenging canyons on the first drive, of which there are many in Southern California.
In the early afternoon on Saturday and Sunday, traffic is typically light to normal on the 101 through Ventura County. That makes it a good time and place to teach the basics of freeway driving. I go over maintaining freeway speed, changing lanes, passing techniques, watching ahead for traffic and road obstructions, checking mirrors regularly to keep track of surrounding traffic, and establishing 'safe' zones around the car in case evasive action such as sudden stops or lane changes are required.
Here's the map of the drive that shows distances between points so you can create a similar drive for your area in case you are unable to follow the outlined route.
At the end of this first drive, the teen driver will have touched on and acquired a number of new skills. While they won't be experts at any of them, it will provide a good foundation that will be built upon in the next and future drives.
In the meantime, between long drives, be sure to continue working with the teen driver by having them drive around town whenever you have time to take them out during the week. It will continue to build their experience and confidence behind the wheel.
Next up: Canyon Driving – Part 1.